October 29, 2014
Online Employee Engagement Course – Classes Begin November 4.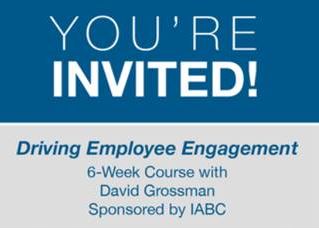 There's more evidence than ever before that engaged employees can significantly boost a company's bottom line. Top employers know engagement is no longer just about work-life balance or employees feeling good about their jobs. Instead, it's a key strategy for strengthening companies and building profits.
Still, what's less clear is how organizations can actually impact engagement. High performing companies realize that boosting employees' sense of commitment and passion for their work doesn't happen overnight. At the same time, they know that there are proven strategies for building an engaged, committed workforce—and that effective communication is a cornerstone.
Communication isn't just about telling employees that they matter. It's about figuring out what employees want and need to do their jobs better, giving managers better tools for motivating their staffs, and aligning all employees around a shared purpose.
I hope you join me for this interactive course, where you will learn best practices for developing and managing an effective internal communication plan that drives engagement. Core content is consistent with the Certified Communication Management Professional Job Tasks Analysis, and will cover a range of critical topics, including research and analysis, communication strategy and planning, measurement, and engaging and equipping leaders.
Specifically, the presentations will cover:
The ultimate business case for engagement.
Engagement models that work
The essential role of communication in engagement.
Understanding employees' and senior leaders' needs.
Getting the budget you deserve.
Knowing your audiences.
Getting employees aligned on a strategy and their role in its success.
Picking the best communication tools and channels.
Engaging virtual and part-time employees.
Motivation tools for leaders.
Navigating employees through times of change.
This six-session course is ideal for communicators (with six to 10 years of experience on average) who want to dramatically advance their careers by mastering the tools they need to drive their organization's success.
For more on the course, scheduling and to register, click here: http://bit.ly/1uuxy5t