October 31, 2014
Weekly Round-Up: On Getting Results from a Flexible Workforce, a Roadmap for Leader Effectiveness & Rediscovering Your Motivation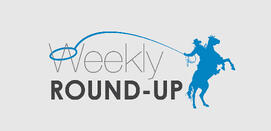 Welcome to my weekly round-up of top leadership and communication blog posts. Each week I read and tweet several great articles and on Fridays I pull some of the best together here on my blog. So in case you've missed them, here is this week's round-up of top posts.
They'll provide you with tips, strategies and thought-starters from many of the smart folks in my network. So whether you're a new leader or an industry veteran there'll be something here for you.
Getting Results from the Flexible Workforce
By Comcast, Inc
"The concept of the 'anywhere office' fits into the growing trend of the flexible workforce and the idea of work being a thing you do, not a place you go. "For small and medium-sized business owners…"
How to Be the Best Boss
By Tom Schulte, Linked 2 Leadership
"Employers struggling with talent retention and motivation must reconnect with the fundamentals of good management. It's simple — keep your employees happy…"
Craft a Roadmap for Leader Effectiveness
By S. Chris Edmonds, SmartBlog on Leadership
"There were 25 managers in a recent leadership program I facilitated. Part of the program included a pre-work assessment where each manager and their direct reports assessed the manager's leadership behaviors and overall effectiveness.…"
Five Things Great Leaders Do Right
By Rich Berens, Switch & Shift
"To state the obvious: Great leadership is vital to any organization. Great leaders set the direction for the organization and determine resource allocation to get it done. They create the tone by how they lead and make decisions…"
How to Rediscover Your Motivation
By Gwen Moran, Fast Company
"Companies spend a lot of time and money trying to motivate their employees. But when was the last time a mug with your company's logo or a coffee shop gift card made you truly excited? Real motivation doesn't come from external rewards…"
What were some of the top leadership articles you read this week?
- David Grossman
___________
Want more tips on how to be a more effective leader? If so, check out our CEO Resource Center, today!