December 12, 2014
Weekly Round-Up: On Proven Ways to Earn Employee Trust, 5 Practice of Values-Based Leaders & Giving Useful Feedback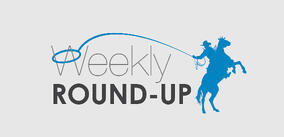 Welcome to my weekly round-up of top leadership and communication blog posts. Each week I read and tweet several great articles and on Fridays I pull some of the best together here on my blog. So in case you've missed them, here is this week's round-up of top posts.
They'll provide you with tips, strategies and thought-starters from many of the smart folks in my network. So whether you're a new leader or an industry veteran there'll be something here for you.
The Importance of Creating a Culture of Why
By Art Markman, Fast Company
"Good knowledge is at the core of innovation. The more that people understand the way the world works, the more that they can develop novel solutions to problems. This type of knowledge is called…"
5 Practices of Values-Based Leaders
By Shawn Murphy, Switch & Shift
"Are your personal values personal? They shouldn't be if you want to make a difference. Something personal is not often discussed. It's rarely discussed, and held close to the chest. Your values need to be unleashed, visible in your actions, apparent in your words..."
Proven Ways to Earn Your Employees' Trust
By Carolyn O'Hara, Harvard Business Review
"Trust is often talked about as the bedrock of a company's success. Most people think about the issue in terms of customers: They have to believe in you and your products and services. But trust within the organization…"
What Makes a Piece of Performance Feedback Useful?
By Young Entrepreneur Council, SmartBlog on Leadership
"When asking or giving feedback, it's important to be specific. We like to follow the format of SMART goals: specific, measurable, attainable, realistic and time-sensitive. Rather than saying, "You need to track accounts better," it's better to say…"
Why Leadership Should Be Hard
By Tanveer Naseer
"With the arrival of this last month of the year, I've been finding myself in a mixed state of mental exhaustion and reflection, which considering the work involved in bringing my first…"
What were some of the top leadership articles you read this week?
- David Grossman
___________
Check out our Leadership Toolbox eBook, filled with popular leadership posts and all of their actionable tips!