December 19, 2014
Weekly Round-Up: On Tips for Developing a Leadership Mindset, How Empathy Makes Us More Productive at Work & 5 Practices of Values-Based Leaders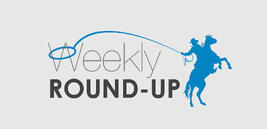 Welcome to my weekly round-up of top leadership and communication blog posts. Each week I read and tweet several great articles and on Fridays I pull some of the best together here on my blog. So in case you've missed them, here is this week's round-up of top posts.
They'll provide you with tips, strategies and thought-starters from many of the smart folks in my network. So whether you're a new leader or an industry veteran there'll be something here for you.
7 Tips for Developing a Leadership Mindset
By Jane Perdue, SmartBlog on Leadership
"These methods require maintaining an equilibrium between analytical thinking and conceptual mindsets—a fundamental necessity for leading as well as managing effectively. If your career…"
How Empathy Makes Us More Productive at Work
By Laura Vanderkam, Fast Company
"Whatever your role, to get anything done, 'everybody needs to be able to drive consensus,' says Jon Kolko, author of the new book..."
5 Practices of Values-Based Leaders
By Shawn Murphy, Switch and Shift
"Are your personal values personal? They shouldn't be if you want to make a difference. Something personal is not often discussed. It's rarely discussed, and held close to the chest. Your values need to be…"
How Are You Reacting to Feedback?
By Liz Kislik, Business 2 Community
"It can be even tougher to accept feedback than it is to give it. It's never easy to hear that your idea, behavior, or effort didn't have the desired effect or wasn't well received…"
The Questions Good Coaches Ask
By Amy Jen Su, Harvard Business Review
"In the HBR Guide to Coaching Employees, executive coach Ed Batista defines coaching as a style of management characterized by asking questions. With those questions you can move away from…"
What were some of the top leadership articles you read this week?
- David Grossman
___________
Download Improve Your Workplace Diet and receive 11 key steps to improve your leadership and communication skills!