January 16, 2015
Weekly Round-Up: On How to Disarm a Defensive Audience, 15 Ways to Become a Better Leader & 6 Tips to Motivate Your Employees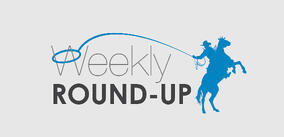 Welcome to my weekly round-up of top leadership and communication blog posts. Each week I read and tweet several great articles and on Fridays I pull some of the best together here on my blog. So in case you've missed them, here is this week's round-up of top posts.
They'll provide you with tips, strategies and thought-starters from many of the smart folks in my network. So whether you're a new leader or an industry veteran there'll be something here for you.
How to Disarm a Defensive Audience
By Jesse Scinto, Fast Company
"Board members sat around the table with open containers of pork-fried rice and tense expressions on their faces, waiting for me to discuss their communications audit. I had been told in advance that some of them would welcome the findings…"
6 Surefire Tips to Motivate Your Employees
By Adam Heitzman, Inc.
"Motivating your employees is one of those things that seems easy on the surface, but can actually be challenging with a lot of different layers to consider. You have different employees to work…"
15 Ways to Become a Better Leader in 2015
By Young Entrepreneur Council, Switch & Shift
"YEC (Young Entrepreneur Council) surveyed some folks about what Millennials want to do differently this year to become more Human-centered leaders. Here are their responses…"
5 Attitudes to Accelerate Leadership Development in 2015
By Mike Henry Sr., SmartBlog on Leadership
"Are you in a leadership position? Did anyone on your team or being mentored by you get promoted last year? Is anyone who interacts with you growing at the same rate or greater than you are…"
Success from the inside Out
By Melcrum
"Mindfulness. If you're still thinking this is merely a touchy-feely trend practiced by yogis, creatives and the business elite – you're way behind. Thousands of people in organizations around the world are now benefiting from…"
What were some of the top leadership articles you read this week?
- David Grossman
___________
Improve your communication. For free tips, download our A-List Part 2: "Communicating Your Way to Great Leadership" ebook, today!