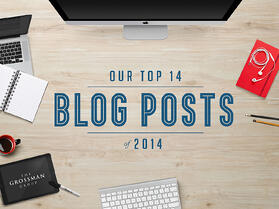 As we begin our fifth year of the leadercommunicator blog, it's a great time to reflect on the posts that resonated with you in 2014.
I've compiled the most viewed and shared posts—each full of actionable leadership strategies— and created an eBook for them.
The 14 posts found within touch on a variety of topics, including employee engagement, workplace culture and storytelling, all of which we will continue to explore in the new year.
Some of the top 14 Blog Posts of 2014 include:
Communication Is a Superpower Everyone Can Have
The Key to Building a Culture of Innovation
The 2 Steps to Make Any Communication Successful
Don't Let Internal Communications Get Lost In Translation
Employee Disengagement and the Warning Signs to Look For
And 9 more!
These topics are clearly important to you, our readers and with just a little practice; the strategies you learn in this eBook can become a natural part of your daily communication.
Here's to becoming an even more thoughtful and impactful leader in the year ahead!
Download—Our Top 14 Blog Posts of 2014—and learn the strategies you need to elevate your leadership and communication.