February 13, 2015
Weekly Round-Up: 6 Ideas for Creating a Culture of Transparency, Leadership Lessons from Lincoln & Businesses' Billion Dollar Mistake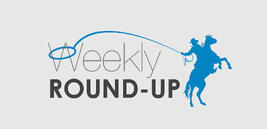 Welcome to my weekly round-up of top leadership and communication blog posts. As many of you know, each week I read and tweet several great articles and on Fridays, I pull some of my favorites together here on my blog.
This week you'll see articles on encouraging transparency in the workplace, the importance of being mindful to better navigate your daily life, and inspiration from one of America's great leaders, Abraham Lincoln. These articles will provide you with tips, strategies and thought-starters from many of the smart folks in my network. So whether you're a new leader or an industry veteran there'll be something here for you.
What were some of the top leadership articles you read this week?
- David Grossman
___________
Discover the best practices to connect directly with employees for a motivated and inspired workforce. Download our ebook, "The A List Part 1: Communicate Your Way to Great Leadership" today!