August 9, 2017
Develop an Accurate Picture of the Business – Courageous Communicator Quest Challenge 5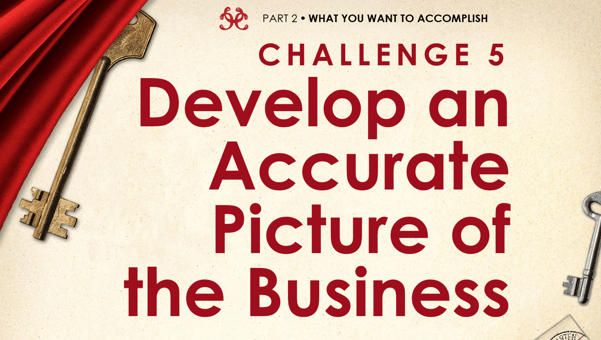 Congratulations! You've completed the first part of Courageous Communicator Quest that began with Knowing Yourself and owning who you are. Chances are, you stepped out of your comfort zone, and learned a lot about yourself. You are now ready for the second leg of your journey: What You Want to Accomplish.
Start by asking yourself: What are your business goals? Big picture, where do you want to go? Do you have a vision for where you want to take your organization or division and what you hope to accomplish? Just as important, have you figured out how to explain all of it to others in a way that they can understand? Without context and planning, you're venturing out to lead without the tools you need to succeed.
Challenge 5: Develop an Accurate Picture of the Business
The Myth
Great leaders don't get their hands dirty with the details.
The Truth
Effective leaders might not get caught in the weeds of the business and know better than to micromanage their teams. Yet they do stay connected to the people on the front lines, and understand the workings of their company, division or team across roles and responsibilities. They realize that only by knowing what's really happening can they make better decisions and achieve desired outcomes.
The Courageous Communicator Challenge
Set up an informational lunch with employees once a week. Ask broad, open-ended questions and listen. For example, ask for one idea to make things better. Talk as little as possible. Ask for clarification when you need it. Above all, let go of ego and defensiveness to show people that you're open to hearing what they have to say. And then don't stop there, allocate time each month to walk the halls, eat lunch in the cafeteria, talk face-to-face with the factory manager or employees on the floor. The opportunity is for you to connect with staff, and when used effectively, to gain hugely valuable information on the business and opportunities for improvement.
What open-ended questions will help you gain a better understanding of the realities of the business?
—David Grossman
Check back next week for the 6th Challenge where we'll discuss Envisioning the Future.
If you are just joining us in our Courageous Communicator Quest Challenge, take a moment to start from the beginning here.
Refer back to previous challenges here:
• Challenge 1 - Know Your Authentic Self
• Challenge 2 - Become Self Aware (Walk the Talk)
• Challenge 3 - Disclose Yourself to Others
• Challenge 4 - Stay True to Yourself Under Pressure (Integrity)
---
Internal CEO communications create a significant financial advantage for any organization. Get the data all CEOs need to drive financial performance in this whitepaper: