July 26, 2017
Disclose Yourself to Others – Courageous Communicator Quest Challenge 3
Making progress! Coming out of last week's Challenge, did anything you learned about yourself surprise you, or shock you even? Did you get a new perspective? How did that resonate with you?
This next Challenge in the Knowing Yourself phase is about helping others get to know you, too. Disclosing yourself to others also requires you to leave your comfort zone, yet the benefits that come along with disclosure are abundant including building trust, credibility, relationships and connections.
Challenge 3: Disclose Yourself to Others
The Myth
Great leaders don't need to be known or understood. Work is work and not personal.
The Truth
It's a common misconception that great leaders don't reveal their humanity. On the contrary, the most influential leaders understand that revealing genuine vulnerabilities or human traits can be a powerful tool for connecting with employees and modeling personal growth. That's not to say that it's about becoming a quivering mess of insecurities, but strategic—and honest—self-disclosure can better help people understand that you share in their struggles and know what it is to overcome adversity.
You show that you're not leading in a bubble, and that your perspective is grounded in specific experiences. Leaders who communicate honestly and genuinely reap the benefits of employees who are more engaged, and feel even better about how they lead and the results they achieve.
There's a caveat. It's important to note great leaders also consider what the audience can understand, process and make use of. Giving someone information they have little way to process or to understand, can just create confusion and anxiety. All this requires reflection on your part before you speak or act. In other words, you have to be planful and purposeful (you can't wing it). This is where this week's challenge comes in.
The Courageous Communicator Challenge
Stories are an integral part to communicating effectively with your employees. A great story goes a long way, because it's memorable and helps create an emotional connection with the listener. What we feel impacts what we do, so stories can be a great way to move employees to action.
Pick a behavior that you want your team—or a specific employee—to improve. Then think of a personal experience with the behavior that was holding you back—and the story of how you overcame it, developed new behaviors, and how that change ultimately led to a turning point in your career.
However, sometimes leaders get so caught up with grabbing an audience's attention that they miss the point. For instance, a personal anecdote is great but only if it connects to what you're trying to communicate. In other words: It doesn't really matter if your son won the state high school basketball tournament unless his game-winning shot says something about what your company team needs to do every day. So, make sure to include a moral to every story you share. Wrap up your story with this comment: "I share this story because…"
When preparing your story, follow this formula to help guide you: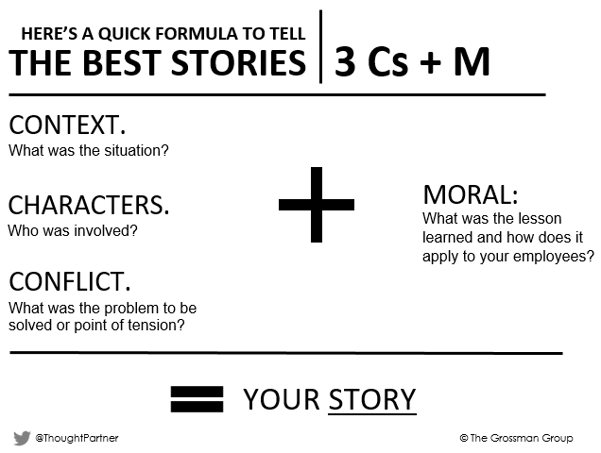 Remember, like any good communication, stories should have a purpose and tie directly to the end result you're trying to achieve.
Now the fun part: Share that story with your team or that individual.
What is a personal experience that comes to mind that you can use for this challenge?
—David Grossman
Check back next week for the 4th Challenge: Staying True to Yourself Under Pressure.
If you are just joining us in our Courageous Communicator Quest Challenge, take a moment to start from the beginning here.
Refer back to previous challenges here:
• Challenge 1 - Know Your Authentic Self
• Challenge 2 - Become Self Aware (Walk the Talk)
---
Employees are eager for a leader who can step up and guide them with strategy and integrity. Access messaging secrets on how to connect and communicate with your team with this free eBook: