June 22, 2020
Diversity & Inclusion in the Workplace: 3 Steps Your Organization Should Take Today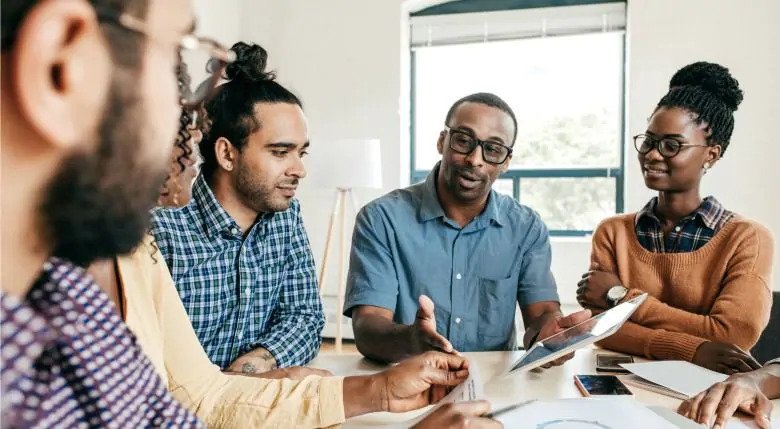 It's a defining moment for companies to examine the actions and commitments that are needed to address diversity and inclusion in the workplace.
With societal issues center stage, now more than ever, companies need to reflect on their culture – and reset if necessary. Starting with the C-suite and in every team across the organization, now's a time for organizations to reflect, have honest dialogue about how to be better, and come together to commit to actions. It's the right thing to do, and it's right for their people, customers and performance.
Recently, one of the CEOs we are honored to work with was interviewed by CNBC on the topic of racial injustice. He was asked what leaders can do, and so he challenged his peers and management teams across industries to ask three questions:
What do you stand for?
What have you done to promote diversity & inclusion?
Can you measure those actions against metrics?
So, where is your organization on these critical questions?
3 Things Your Organization Can Do Today to Drive Diversity & Inclusion (D&I)
1. Take a stand and have clarity of purpose around D&I:
It's human nature to want to know where we stand with each other. Most employees, not to mention customers and other constituents, feel they deserve to know where your organization and leadership stand on topics of importance. They want to know that what they value is consistent with what their company values.
Do you know what you stand for? Do your people? Do your customers? If you say yes, that's fantastic. You're a step ahead. If you're not yet there, now's the time to define your stance. Start to shape, re-commit and/or reset the culture you want and need to get the best thinking, the best retention, the best innovation and the best performance.
Every leadership team should, with the support of your D&I team (if you have one, or the team who leads diversity initiatives), have a strategic framework in place that articulates your vision and plan for D&I. It should show how it supports your company's mission, vision, values and strategy. Make diversity and inclusion a real part of your people and business strategy because you believe in it; not just a hollow phrase that checks the box of what's expected. After all, research points to better results when the workplace encourages and embraces diversity, inclusion and a sense of belonging, which, ultimately powers performance.
2. Take action to drive D&I:
During the past weeks, we've seen many social media posts and CEO letters saying D&I is important and we can do better. The words are an important start, but while heartfelt and sincere, the proof is in the actions.
So, now what? Reflect on what actions you've taken to promote a culture where everyone can come to work as they are and do their best work. Commit to what you need to do to advance your stance.
If you don't already have a plan, get one in place. Commit to specific and measurable goals with tangible milestones that will show progress in the near-term and over time. While HR and D&I teams do so much, this is far too important for any one function. Creating a diverse and inclusive culture needs to be owned company-wide.
Here are 4 easy ways you can take meaningful action:
Engage key stakeholders across your organization so they're actively involved.
Engage employees to shape your culture and stance on important topics that impact your workforce and the communities where your teams and customers live and work.
Build a coalition of support to set you up for success.
Prepare your leaders at every level to have better conversations with their teams – especially the uncomfortable ones.
Let's learn from the companies who are already helping leaders navigate change, lead with empathy, deliver feedback, encourage team dialogue about societal issues, and foster respectful and constructive debate and disagreement among their teams.
Commit to effective communication because that's how you drive understanding of the critical mindsets and behaviors that are expected. That's how you gain commitment. And that's how get people to act – which is how you achieve your culture and business goals. Communicating effectively isn't about self-promotion; it's about creating a shared understanding of where your company stands so employees (and others) can stand with you and help you achieve your outcomes.
In many ways, the tone for driving the culture reset starts at the top with senior-most leaders. Help every leader comfortably speak of your organization's stance and ways diversity and inclusion are alive in your organization. Make it a message owned by more than the CEO, CHRO or Chief Diversity & Inclusion Officers, and one that's relevant and actionable to everyone in the company.
Leadership needs to model it, but everyone in the company needs to own it because culture reflects what everyone in the company does and says every day. It's everyone's job to make diversity and inclusion part of everyday business. To do this, build in systematic listening, ongoing communications, and regular reinforcement of the expected mindsets and behaviors. Have regular conversations about what's possible, where things stand now and the path ahead. Share real stories that connect people to progress and how it ties to your organization's mission, vision, values and strategy. Paint a picture of what your outcomes are and how people can make it happen. Celebrate the everyday heroes. Call people to action. Make diversity and inclusion efforts real, actionable and woven into the fabric of everyday business – as is done with other strategies and operational priorities.
3. Measure your progress:
What gets measured gets done. So, how are you tracking metrics to capture an honest assessment of progress or gaps when it comes to diversity and inclusion? And are you sharing your progress (or lack thereof) externally as well as internally? Think about how you'll hold yourselves accountable, and measure against it in an open and transparent way.
Are you ready to commit to a culture reset?
Company executives have committed to change. Your employees and customers are watching what happens next. This is where inspiration pivots quickly to action and results.
As leaders, you're in a unique position to create lasting change. You're not alone. We're here to help. So many in your organization will help if only given the platform and encouragement.
But it's up to you to take the first steps. When you do, imagine what a world of difference you will make for your company, your people and the world around us.
How will you take these ideas and drive diversity and inclusion in your workplace?
—David Grossman
---
Click below to get the comprehensive guide and follow the 4 key steps to ensure you have a well-thought-out plan for rolling out your new company culture (featuring 2 tools and a tip sheet).