December 5, 2016
[Free Poster Download] 52 Inspirational Quotes to Help You Communicate Better and With Quiet Courage
As the year comes to a close I find myself (as I often do) reflecting on the months past and thinking about – as many of us do – New Year resolutions. Aside from the classic "lose some weight," I've been giving thought to resolutions for the workplace. In talking with colleagues and clients, communicating better has been a resounding theme for 2017. So to help them – and hopefully you – we polled our network and gathered some of our favorite inspirational quotes on communication to help you communicate better in the year ahead.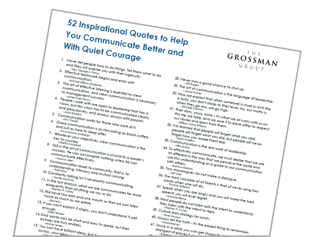 And hey, there are 52 – so pick one a week and use it as inspiration. Here are ten – and you can click the image below to download the poster for your office.
Download your free inspirational quotes poster here.
Inspiration to Help You Communicate Better and With Quiet Courage
Never tell people how to do things. Tell them what to do and they will surprise you with their ingenuity.




- George S. Patton

Never miss a good chance to shut up.




- Will Rogers

People may hear your words, but they feel your attitude.




- John C. Maxwell

The art of effective listening is essential to clear communication, and clear communication is necessary to management success.




- James Cash Penney

We have two ears and one mouth so that we can listen twice as much as we speak.




- Epictetus

If you can't explain it simply, you don't understand it well enough.




- Albert Einstein

If you just communicate, you can get by, but if you communicate skillfully, you can work miracles.




- Jim Rohn

Skill in the art of communication is crucial to a leader's success. He can accomplish nothing unless he can communicate effectively.




- Norman Allen

Communication is the real work of leadership.




- Nitin Nohria

Whatever your objectives, clear communication is the key to success.




- Melitta Campbell
What quotes inspire you to be a better communicator?
—David Grossman
___________________________________________