July 23, 2015
Guest Blogger: Mark Yeadon on Work-Life Balance #NoCapeNeeded
In the coming weeks before the launch of my next book, "No Cape Needed: The Simplest, Smartest, Fastest Steps to Improve How You Communicate by Leaps and Bounds," we will publish a few leadership advice pieces that are featured throughout the book. These posts offer the best advice industry leaders have received in their careers and are a must-read for those wanting to elevate their own performance at work.
Advice
Define what work-life balance means to you by setting clear and reasonable expectations (and live them).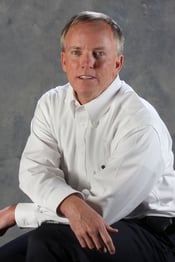 Back Story
When you work in a non-profit, it's easy to lose your perspective on work-life balance because you're so driven and motivated by the cause you're promoting through your organization. Leaders in non-profits, in particular, run the risk of overworking themselves, mistakenly believing that anything short of a 60 to 80 hour work week demonstrates a lack of dedication to the mission at hand.
Then, add a Type A personality, such as myself, to the mix; now you really have a work overload situation!
This was my case, and all along, it's as if I had secretly wished some caring leader would take notice and intervene, helping me limit the extremes I was facing – all while not perceiving me as weak. It never happened.
Outcome
I helped myself. I finally decided to take personal responsibility for my own wellbeing. You might say it was my "aha" moment. I realized the best person to create a healthy lifestyle and boundaries for me, was me; and that by doing so, everyone benefited such as my family, friends and yes – even co-workers. I came to my conclusion when it dawned on me that my people want me to be at my best for them and in order to do that, I had to be the best for me. My staff and direct reports deserve my undivided attention; they deserve a good role model and they deserve good leadership.
But let's face it — no leader is made out of steel and I'm no exception. I had to redefine my priorities; I had to set clear and high, but reasonable expectations and most importantly – I had to articulate and live out this new conviction, ensuring that my words, did indeed, match my actions. You can't give what you don't have. Today, I can say with confidence that is not my case and my personal and professional life are better for it.
-----
Mark Yeadon
Mark Yeadon and his wife, Teri, have four children and nine grandchildren. Mark served four years in the Air Force before joining Compassion International in 1984. Currently as Sr. Vice President of Global Program, he is responsible for the leadership of Compassion's program development and management worldwide. Mark is a co-author of the book, Relentless Hope: The Unstoppable Movement of Disciple-Making Communities. Mark is passionate about faith and family, enjoys reading, cycling and being outdoors.