June 30, 2015
Guest Blogger: Simon Sproule on Picking an Industry Based on Personal Passion #NoCapeNeeded
In the coming weeks before the launch of my next book, "No Cape Needed: The Simplest, Smartest, Fastest Steps to Improve How You Communicate by Leaps and Bounds," we will publish a few leadership advice pieces that are featured throughout the book. These posts offer the best advice industry leaders have received in their careers and are a must-read for those wanting to elevate their own performance at work.
Advice
Work in an industry that you have a personal passion for.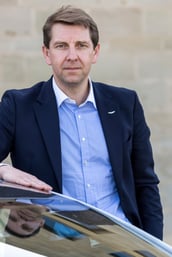 Back Story
I have always loved cars, so joining Aston Martin has been a real thrill for me. When I get up on Monday morning to go to work, I'm excited because I get to engage in a business I love.
We hear much talk about the car becoming less important, especially for the millennial generation. For me, so many great memories have been built around cars – traveling to a special destination, spending quality time with friends and family inside a great car; going to motor races and car shows. There are few products that can have such a profound influence.
Outcome
This passion for cars helps me as a manager too because I don't have to fake it. It's clear to everyone I work with that I love what I do, that I'm super engaged. I consider personal enthusiasm an important management advantage; one of the main challenges of leadership is motivation. More than anything else, you're looking for that key to inspire the hearts and minds of your team.
Doing my part to inspire the people I work with is exciting for me. I believe wholeheartedly in our vision to create extraordinary cars, and I take pride in being a part of this company. The potential for Aston Martin is significant, and I cherish the responsibility – together with the rest of the management team – of leading this company into its second century.
-----
About Simon Sproule
Simon Sproule has been Director of Global Marketing Communications at Aston Martin Lagonda since November 2014. Previously, he served in executive positions for Tesla Motors in California and for Nissan Motor Company in Japan. With over 22 years of auto industry experience, his first position was with Ford UK. In 1998, Simon moved to Ford's HQ in Michigan followed in 2000, to lead communications in North America for Jaguar, adding Aston Martin and Land Rover in 2001.