November 19, 2015
Hit or MISS'ive - Starwood: You Can Learn a Lesson of Effective Communication from American Airlines

Both Starwood and American Airlines announced big news for travelers and those loyal to their brands this week. One's communication was a hit; the other a big miss.
Starwood is being bought by Marriott. American Airlines is making significant changes to its frequent traveler program in 2016.
For context, I stay at Starwood hotels often 2-3 times a week and have earned their Lifetime top status. I love Starwood and want the company to win! I rarely fly American as I'm a loyal United flyer.
My experience with their communications.
I learned of the news from Starwood from a news source I subscribe to; American Airlines emailed me directly. Then, I saw the news about American Airlines in my email from an outside news source I trust.
Coincidentally, the day the Starwood news was announced, I was staying at a Marriott hotel. I asked the woman who checked me in about what she knew. "We're going to be the biggest in the world," I was told. When asked what's going to happen to Starwood, she said that all their properties would be converted to Marriott brands.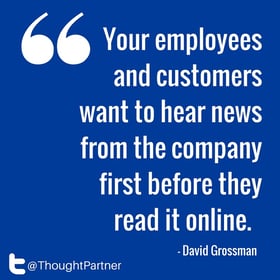 I have no idea whether this is true or not since I still have heard nothing directly from Starwood since the announcement Monday. That's four days and counting.
What's next?
As you can imagine, I'm wondering about what's going to happen with Starwood and the equity I've built with them.
A lesson for companies everywhere.
The lesson here: your employees and customers want to hear news from the company first before they read it online. Or at least get direct communication within minutes of a public disclosure.
You might not have a ton of details, but the expectation is that you share what you know, when you know it.
When you have news to share, how are you doing at thinking about your key stakeholders and the sequencing of your communication?
- David Grossman
------------
Interested to see how other major companies have fared with their communications? Get more Hit or MISS'ive by clicking the image below: