December 8, 2017
Holiday Business Book Sale: Get 30% off No Cape Needed & You Can't Not Communicate!
With the holiday season upon us, why not give the gift of leadership and communications tips to a colleague, friend or your team?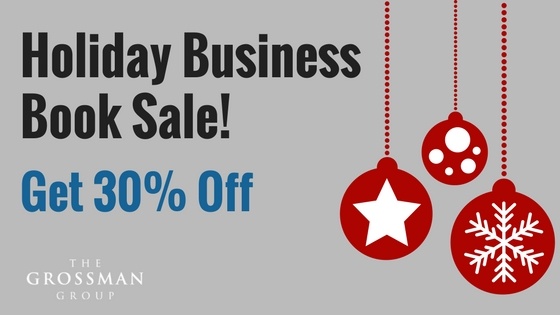 From now until January 1, 2018, my books, No Cape Needed: The Simplest, Smartest, Fastest Steps to Improve How You Communicate by Leaps and Bounds, along with You Can't Not Communicate: Proven Communication Solutions that Power the Fortune 100, and its follow-up, You Can't Not Communicate 2, are on sale for $12.59 each – a 30% discount.
About The Books
No Cape Needed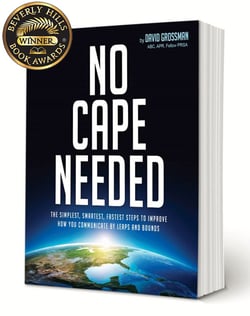 Leaders at all levels can make such a larger impact by simply embracing this critical fact: communicating effectively with your most important asset — your employees — is the key to success. In essence, it's like having a superpower. Better communication skills clearly translate to better leadership, allowing you to quickly transform your company, not to mention your relationships and your life.
Another little-known fact? Great communication skills are a lot easier to attain than many leaders think. There is a clear path to becoming an inspiring leader and communicator; this book shows the way.
In No Cape Needed, I share years of insights as an executive coach and communications strategist to help all leaders see how communication is truly a superpower in today's business and financial environment. Through this engaging book, you'll find the simplest, smartest, fastest steps to improve how you communicate by leaps and bounds.
The book also features a foreword by John Greisch, CEO of Hill-Rom and leadership advice from senior-most leaders inside leading organizations, including: Aston Martin, The Boeing Company, Compassion International, Motel 6, Nationwide Insurance, Starbucks, and Starwood Hotels & Resorts Worldwide, Inc., to name a few.
You Can't Not Communicate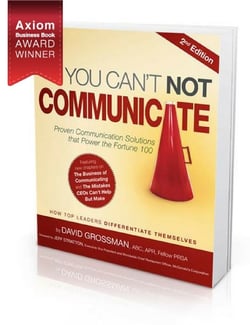 The reality is…everything you do and say communicates SOMETHING. So as a leader, not communicating isn't an option. In fact, the most effective leaders know that their success hinges on being leadercommunicators™.
I often post this question to my clients: "If you know that you are constantly communicating, don't you want to do it effectively?" I have spent my career helping leaders use communication to be more successful and to become leadercommunicators. In this book I share my insights, lessons, and strategies to help any leader—whether a seasoned veteran or a first-time manager—enhance their current level of success.
A foreword by Jeff Stratton, former Executive Vice President and Worldwide Chief Restaurant Officer of McDonald's Corporation, focuses on the importance of good communication to everything McDonald's does, from motivating employees to offering outstanding customer service.
You Can't Not Communicate 2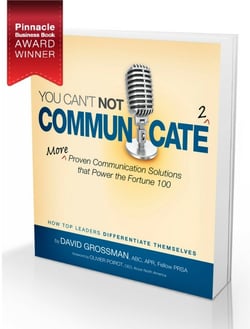 The most effective leaders choose to make the most of their communications, and recognize that virtually all problems in business today lie in the absence of effective communication.
These leadercommunicators—who are differentiating themselves and driving business success— know effective communication is the critical tool for bridging strategies and actions, strengthening teams, inspiring others, and accelerating results. In my second book in the You Can't Not Communicate series, I expand on a proven approach to tackle common challenges including, "the Se7en Deadly Sins of leadership," along with critical but less commonplace opportunities such as motivating Millennials, mastering messaging, and engaging hard to-reach employees and holding them accountable. Proven with Fortune 100 companies, the tips and tools presented in You Can't NOT Communicate 2 can help propel any leader to the next level.
You Can't Not Communicate 2 also features a foreword by Olivier Poirot, former CEO of Accor North America and Motel 6 / Studio 6.
Get the Books for Your Department or Team
Each of these books are on sale for a limited time. To take advantage of this deal click here to buy the books.
Want to gift the books to your department or team? Email results@yourthoughtpartner.com to get deep holiday discounts!
—David Grossman
---
Click below to order your copy(ies) today!