May 7, 2018
How One Innovative Communications Tool Turned Communications Inside Tenneco's Manufacturing Plants into World-Class
I'm one of those people who likes to always have a game plan. I guess it stems from a desire to know where I'm headed and how I'm going to get there – as quickly and efficiently as possible. And, because even when I go with the flow, I can be so much more purposeful and in the moment.
I'm in good company with many leaders and communications professionals who also are outcome-oriented and short on time! That's why one of the best tools for any leaders' toolbox is a playbook for how to communicate effectively.
While we can't (and shouldn't) do the communicating for the leaders, we can give them many of the ingredients they need to make it as easy a route as possible. I liken it to those delicious cake mixes that come in a box that just need oil, eggs, water and a good stir. Without much effort, they come out great every time (and usually taste better than those made from scratch)!
One Tool Turned Communications Around and Significantly Boosted Employee Engagement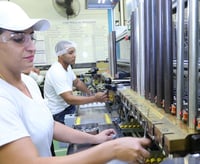 We worked with one of our clients, Tenneco, to make a playbook that plant leaders and their leadership teams could use to guide communications inside their more than 90 plants around the world. Communicating with employees in a plant environment is especially riddled with challenges and poses some of the toughest work for plant leaders and communication teams. Yet it also presents a defining opportunity to support leaders who are typically stretched thin while also helping to improve information flow and engagement of employees.
The goal for this playbook was to establish a common, best-practice framework for how leaders could communicate even better in their plants – while still encouraging leaders to add their own signature touches to plant communications that work for their teams and markets.
It included everything plant leaders need, including clearly outlined expectations and minimum requirements for communication, examples of best communication practices that Tenneco's plant leaders swear by, and best industry practices. It also included tools and templates and advice to make effective communications as turn-key as possible, such as:
Template for plant newsletter

A plant communication plan

The four channels every plant manager should use

How to improve two-way dialogue
Building the Playbook Alongside Plant Communications Assessments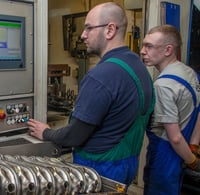 We built the playbook at the same time we conducted plant assessments of how the communications worked – which gave us a close look at what was working and areas for improvement in the plants. We also literally walked many days in the plant leaders' shoes to see and appreciate what their typical days entail. In doing so, the playbook was grounded in the practical and made easy to activate.
What made the playbook so worthwhile was seeing plant leaders' reaction when they started using the playbook and the value it brought them:
"We are fans for life because you've helped us, made life easier for us and I know I can count on you."

"You're a breath of fresh air in our daily lives, and you're always welcome here."
Whether working in manufacturing or any other type of organization, having a playbook to set the expectation and equip leaders with resources to meet that expectation for communicating is a win-win. And in the case of Tenneco, this resource has helped turn their plant communications into world-class with double-digit gains in employee communication scores.
See for Yourself How it All Played Out
Interested? Want to know more?
Join Tenneco's Director of Global Communications, Lisa Hartenberger and myself in Montreal at the IABC World Conference on Tuesday, June 5, 2018.
We'll tell the story about how we triaged some of Tenneco's worst performing plants and turned them into best-practice operations.
In addition, you'll learn:
How to assess the health of a plant's communication.

Benefits of measuring the effectiveness of plant leaders.

How to approach "triaging" plant with the most-dire communication and business needs.

How to use "self-service" tools, templates and resources for a network of leaders, HR and communication teams globally.
To make sure you get a spot at out breakout session, register for the conference today.
How could a playbook help improve communications in your organization?
—David Grossman