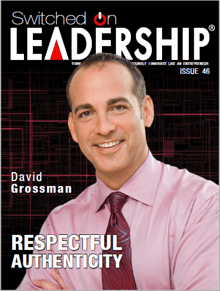 I had the pleasure of being interviewed by Christele Canard, Founder of Switched on Leadership – a monthly app magazine filled with the latest in leadership – to talk about Respectful Authenticity and the value it brings to oneself, both in and outside of the workplace.
Our Discussion
We covered a lot of ground and some key topics include:
Strategies to help you become more authentic

The best way to encourage your team to also be respectfully authentic

How companies are addressing authenticity in the workplace and why it's imperative they do
And more!
Access the Interview for Free
To get the full interview – in print or via a 30-minute audio podcast – download the Switched on Leadership app on your iOS or Android and check out issue #46.
And as a thank you for your support, click here for a three-month free subscription. With a few clicks, you'll receive an email with your subscription bonus code and instructions to download the app.
—David Grossman
---