February 24, 2016
Starting Thought: Leadership in 2016 – Part 1

I started a dialogue with the PRSA New Professionals group on what effective leadership looks like today. The series airs here on the PRSA New Pros blog, and the dialogue has been so great that I want to bring the topic and conversation to you, too. Please weigh in with your thoughts on this important question:
What does effective leadership look like today?
Over th
e past several years, the sheer volume of high-profile business leadership and ethics scandals has dominated
our headlines, causing scores of people to ask, "What's wrong with business leadership today?"
Some of the more recent scandals include Toyota concealing vital information about a car defect that caused cars to accelerate faster on their own, and GM replacing ignition switches that key company officials had known were faulty for years. Before that, there was money laundering at Enron, fraudulent accounting at WorldCom, securities fraud at Tyco, ethics and compliance violations throughout the pharmaceutical industry, and countless stories of executives inflating their resumes to present a more impressive public face.
That may leave new and seasoned professionals wondering what it really takes to be a high-integrity, great leader in today's business environment, when it seems so easy to stray from the right path. At the same time, there's clearly a terrific need for great leadership that can elevate our business culture and transform organizations.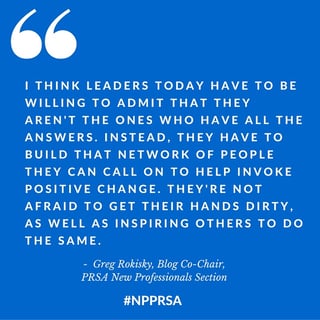 Given this reality, I'm very curious to know what you think:
How do you define leadership today?
What does it take to be a great leader? What are the most important qualities that great leaders possess? Are there leaders you admire, and if so, who are they and what have they done to impress you?
I welcome your thoughts on this important question. Send me your insights or post in the comments below. I look forward to synthesizing your thoughts and providing my own answer to this question in my next blog.
So, let's dialogue! What does it really take to be a great leader today?
- David Grossman
Read the next post in this three part series here.
The PRSA New Pros Blog is run by an impressive team of young professionals and I urge you to check out the great work they're doing.