September 29, 2010
New eBook! Mastering the Art of Messaging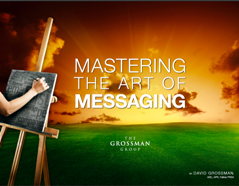 Maybe it's the economy, maybe it's technology, maybe we're all just way too busy, but whatever the reason, employees are feeling more disconnected than ever from the organizations they work for. At the same time, leaders continue to struggle with one of their toughest jobs, developing and articulating their overall strategy and priorities, especially during times of change. The result? Confused employees, unhappy workplaces, stressed bosses, and demanding shareholders.
The hard fact is, however, that even with all the pressures of our fast, demanding world, certain companies are still thriving, motivating their employees, and generating enviable successes. So what's their secret?
Strong leadership that understands the importance, value, and art of great communication.
But the truth is great communication isn't really a secret. It's a skill that anyone can learn, that anyone can master, and that any company and its leaders can use to thrive.
In my new ebook, "Mastering the Art of Messaging," I highlight all the essentials of creating a strategic internal messaging plan with the end goal of helping leadercommunicators create clear, consistent, and credible messaging that connects to target audiences. That means not only identifying your core messaging, but considering how you need to shape it differently for different employee groups, how your leadership team needs to be in sync, and more.
You'll learn what a strategic messaging plan should encompass (and what it shouldn't), how to identify the right tone and content, what media you can use to convey it, and other essential elements you need to consider to ensure consistent and effective communication.
"Mastering the Art of Messaging" is based on the award-winning strategies of The Grossman Group's messagemap, and I know from years of experience that consistent implementation of these strategies is directly responsible for new levels of employee engagement, for the successful implementation of corporate-wide changes, and for measurable business growth at some of the world's most respected and valued companies that are leading in the area of communication (and business results!).
Download "Mastering the Art of Messaging" now.
- David Grossman
_________________
Subscribe: the leadercommunicator blog delivered to your inbox!
Get high level tips on engagement and connection, insights into employee motivations and behavior, and firsthand stories from the frontlines of America's leading companies—delivered directly to your inbox. Subscribe >>