August 2, 2021
My New Book Is Here. Heart First: Lasting Leader Lessons from a Year that Changed Everything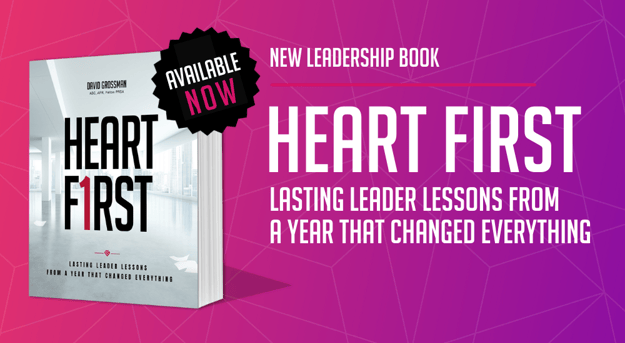 As I shared earlier this summer, I've been working on a book for the past year reflecting on some of the key lessons learned from an unforgettable time, for business and for society. With the pandemic and social unrest that we confronted over the past year, 2020 changed us in enduring ways. As we see from our remote and hybrid work, reduced travel, abundance of video meetings, and new awakenings on equity and inclusion in the workforce, it's clear that the way we work and lead will never be quite the same.
My new book is called Heart First: Lasting Leader Lessons from a Year that Changed Everything, and I'm so excited to share it with all of you.

Along with my own insights from decades working with leaders inside a variety of Fortune 500 companies, I've included interviews and insights with more than 30 CEOs and other top-level leaders. Their candor and wisdom make this a far cry from a typical business book, and the experiences they share and lessons learned are critical for anyone looking to successfully move colleagues or teams through change.
The lessons shared through the interviews are personal, and remarkable in their candor. Leaders shared what it felt like during some of the darkest moments of the pandemic crisis, as well as what it was like to begin raw discussions about racial diversity and inclusion in the aftermath of the George Floyd murder.

I started out in 2020 wanting to explore the concept of leading through change with a new book. In more than three decades working with leaders across industries, I've seen a lot of what works, and what doesn't, and I wanted to share those findings to help others.
And then the global pandemic happened, followed by social unrest that forced a reckoning for business leaders and employees across this country. This was the biggest change any of us had experienced in decades. In fact, the layers of change felt endless for many.
I decided at that point to invite a select group of leaders to sit down and talk about the change they were experiencing and the insights they were picking up as they went along. The results of those interviews – along with other lessons I've learned from advising leaders and communicators across a wide variety of organizations – resulted in this new book.
I hope you will find wisdom and guidance from the extraordinary group of leaders represented, and can turn to Heart First regularly as an essential playbook for navigating crisis and change, not just in this moment but in any period of change or challenge you face in the future.

Heart First sums up what I believe is the key to inspired – and effective – leadership. It means leading with the humanity, courage, and wisdom to carry organizations forward in tough times as well as calmer ones. Now more than ever, leaders play a pivotal role in connecting, calming, and inspiring their teams. A big part of that is leading with Heart First.
My goal for the book is to help leaders, aspiring leaders and communicators find clear direction for how to be the very best leader and communicator they can possibly be. After all, let's face it: It's relatively easy to lead when times are good. It takes a lot more courage, grit and heart to lead during tough times. I'm convinced that a big part of that is leading with the Heart First.
Get an inside look at what you'll get with – and what other leaders are saying about – Heart First in this video:

Leaders I interviewed for Heart First shared that this moment in history has caused them to rethink how they lead and find new ways to connect with their teams, understand their needs, and inspire them to work together to make change.
Excerpts from some of the interviews:
Victor Swint, an African American leader and CEO of Tecomet, on his new goal to raise his voice on the increasing diversity, equity and inclusion inside companies today:

"As a business person, things happen that you just rationalize and you move on because you don't want to dwell on it. But now, I've had this pattern of reflection. I was almost embarrassed when it came on. Like if you asked me (many) months ago what kind of racism I experienced, I would have struggled to answer. But now I remember all of it, like walking down the street and heading from the Boston Garden and being called an N word by four guys. I was told to go home where I came from, referencing Africa even though I'm an American."
Nadeen Ayala, Chief Communication Officer for ABM Industries, on the importance of leaders asking the tough but uncomfortable questions in times of crisis:

"Following the recent senseless acts of racial injustice, I shared during a bias training session at my previous employer my personal experience as a minority and a Latin woman in leadership. I then challenged every leader in the session to set aside time to truly listen and spend time with their colleagues of color on the topic of racial inequality."
Rich Stoddart, past CEO of InnerWorkings, Inc., on the importance of being vulnerable as a leader during difficult times:

"We ended up doing a panel on racism with some external resources we had tapped into during Black History Month. We had quite a 'raw' discussion, including my own admission that several generations back, my own family in Arkansas had owned slaves. I had never said that before in a public setting and it felt cathartic. It's also important to note here that this was an organization that really hadn't focused on diversity and inclusion much at all previously. So, this conversation was quite new and different for our employees. It ended up kickstarting a lot of energy around all of our employee resource groups as well."

All of the various leaders featured in this book share wonderful stories and lessons learned, and I'm so proud and pleased to feature them in the book. Some of the other leaders include:
Paula Angelo, Vice President, Internal and CEO Communications, The Hartford
Dan Costello, CEO, Home Run Inn
Lisa Keltner, Senior Director, Inclusion and Diversity, Baxter
Alisa McGowan, Executive Vice President and Chief Human Resources Officer, Tecomet
Triona Schmelter, Chief Transformation Officer, TreeHouse Foods
Stephen Smith, Chairman, President and CEO of Amsted Industries
Matt Snow, CEO, DHG
Evan Swidler, Chief People Officer, IRI
And many more …
I hope you'll take the time to check out my new book and discover what might be most useful for you.






Heart First leadership is a concept I'm confident will resonate with many leaders today, helping us all to meet the incredible moment we're in and rise to the challenge of becoming the very best leaders we can be.
—David Grossman
---
Now more than ever, leaders play a pivotal role in connecting, calming, and inspiring their teams. A big part of that is leading with Heart First – click below to learn more about Heart First and order yours today: