April 20, 2015
New eBook - Enterprise Social Media: 5 Ways to Maximize Trust and Master Social Media on the Inside
In the world of internal communications, few tools have enhanced the way employees learn and interact, as much as social media. No matter where I travel, leaders and communicators wonder the same thing:
When it comes to social media, are we doing enough at our company to keep up?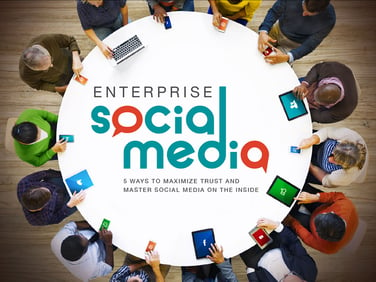 My new eBook, Enterprise Social Media: 5 Ways to Maximize Trust and Master Social Media on the Inside, offers some lessons on deploying Enterprise Social Media (ESM) in ways that resonate with employees and leaders alike. Using these strategies ESM can help your company foster meaningful dialogue that can drive measurable business outcomes.
This eBook elaborates on the following 5 lessons for successful internal social media:
Social Media Is Not a Magic Bullet.
It's true that ESM can enhance the way information flows inside an organization. But on their own, they can't create dialogue & engagement out of thin air.
Be Curators and Docents.
Companies have a false sense that ESM tools are completely user driven. You must have a hand in assembling shareable content & become guides and interpreters of it
Yes Virginia, There Is an ROI.
Companies that put a premium on ESM conversations have a higher likelihood of turning employees into brand ambassadors.
Hockey Pucks and Subways.
Communicators need to anticipate where their key stakeholders are headed, not where they've been. This is important in order to proactively anticipate their needs and preferences.
Leadership (Still) Matters Most.
Online tools alone can never bridge any pre-existing gaps in leadership communications and outreach. Far more important is the leadership behaviors that compromise effective communications.
By reading this eBook, you'll gain the knowledge to avoid some of the most common pitfalls I've seen when companies forge ahead without an engagement strategy and an aligned set of social media objectives.