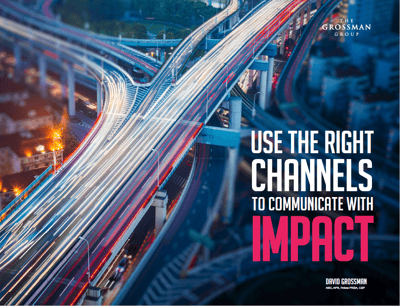 A Surplus of Communications Channels
Having so many options for communicating with employees can be both a blessing and a curse. Often, it's tough to decide on the perfect option for the particular needs of any one audience. And when the wrong channels – or too many – are chosen to communicate a message, it creates clutter and overload.
How This eBook Can Help You
Use the Right Channels to Communicate with Impact, our new Channel Guide eBook, provides insights for communicators looking to pick the perfect communication options for their employees to maximize impact.
Communicators today are all looking for the same thing – a way to push through all the communication clutter to really connect with employees. This eBook helps walk communicators through the various tools available to them so they can make smart decisions on what's best for their unique audience.
The eBook offers short, simple tips and tricks to help you sort through some of the most popular vehicles for communicating with employees today.
The insight helps you decide when and how to use a variety of the vehicles, including:
Face-to-face meetings

Traditional and new forms of written communication

Email

Intranet

Internal Social Media

Internal Publications

Blog

Podcast

Video

Employee Surveys

Infographics

Your CEO

Employee Ambassadors

Front-line Managers … and more!
Get Your Copy
Click below to download—Use the Right Channels to Communicate with Impact—today.
In what ways might being more purposeful when choosing communication channels lead to less clutter and more effective communications?
—David Grossman