March 18, 2019
New Free Ebook: Communicating With Impact Inside Healthcare Organizations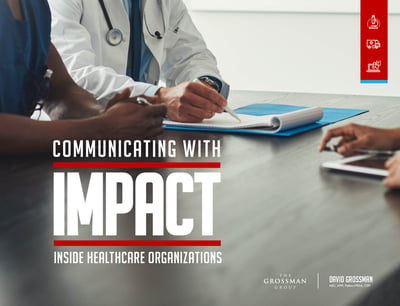 Anyone working in healthcare today knows just how demanding and complex the industry is, with daily shifts in consumer needs, financial pressures, evolving regulations and reforms. The business of healthcare has entered a new era that leaves communicators and leaders with the daunting challenge of keeping employees focused, committed and engaged in what can feel like the eye of a hurricane.
There's Good News
The good news is that better employee communication can help a great deal. Through our work with countless healthcare companies – from pharmaceuticals to hospitals to community organizations – we've seen what works in effectively navigating the storms.
While healthcare will always be complex, there's a real opportunity to break through the communication clutter and make outstanding employee communication a real priority.
This in-depth guide helps put a spotlight on the communication strategies that are often overlooked or undervalued. Effective internal communication can definitely contribute to greater engagement, productivity and organizational performance. This ebook helps you get there.
What You'll Get
The ebook addresses how better communication can bring real clarity to employees on what their priorities should be, and it covers the key steps to developing a truly meaningful communication plan.
Communicating With Impact Inside Healthcare Organizations provides readers with invaluable content on:
Core challenges in today's healthcare business environment and what that means for you
Communication's role in business strategy (and why strategies fail)
The impact of poor communications on business overall, and tips for how to turn it around
New data on leaders and their real ability to build trust in corporate America today
The latest and most effective approach to building an effective and realistic Employee-Employer Contract within healthcare
The multitude of benefits from better communication inside the healthcare industry
And more!
Get your copy
To access your free copy of Communicating With Impact Inside Healthcare Organizations click here.