August 24, 2015
New Tool: Take 5 Planning Template
Being more purposeful in your communications can take as little as five minutes. I call it "take 5" to communicate well. The process involves following five simple steps that can lead to better communication. With time, you can get so good at answering these questions that you can work through this on the back of a napkin. Most importantly, the messages you'll eventually deliver to your audiences will be better thought out and tied to the business outcomes you seek.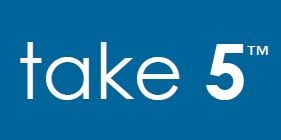 Remember, messages will best resonate with your audiences if you first think about where the audience is coming from and the audience's current mindset. Well thought-out messages are also more likely to move your audience to action.
To help give you a jump start we've put together the, Take 5TM Planning Template. Use this template to map out your communication— whether it's to one person, a group or an organization.
Below are the 5 must-do steps included in the Take 5TM Planning Template:
Outcome – What do you want to accomplish at the highest-level? What's the business outcome you seek? Define it as specifically as you can.
Audience – Are you communicating to an individual or group? What is your relationship? What perspective might they have and what information do they need? The more you know the better you are able to influence the audience. In the end, what do you want them to do?
Messages – Think about the "who, what, when, where, why and how" of what you are communicating. Adult learners want to know the "what" first and then the "why." Be sure to explain your intention and be direct in a caring way, especially when addressing difficult issues.
Tactics – Is the message best delivered face-to-face, one-on-one, through e-mail or in another way? Consider the limitations and possible impact of each option. Important topics deserve face-to-face communication, or at least voice-to-voice communication.
Measurement – How will you evaluate how well your message is being received? Body language or verbal response? Other feedback mechanisms? One way is by analyzing questions employees ask—if they are looking forward and asking how a new situation might work, your message is getting through. If they are challenging your assumptions or want to take a step back, you could do a better job communicating.
Download the Free Tool, Take 5TM Planning Template, and start communicating in ways that drive measurable business results.