I am humbled and thrilled to announce that my third communications book, No Cape Needed: The Simplest, Smartest, Fastest Steps to Improve How You Communicate by Leaps and Bounds, has been honored with a Pinnacle Award for Best Book in Business for Fall 2015.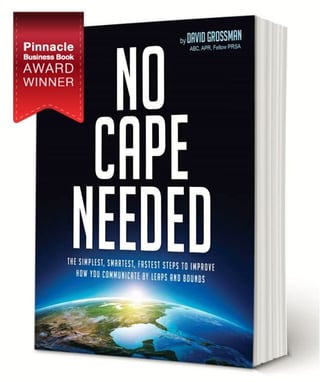 The Pinnacle awards are designed to honor some of the finest books published by members of the National Association of Book Entrepreneurs.
In No Cape Needed, I share insights gained from years as an executive coach and communications strategist – all in an effort to help leaders see how communication is truly a superpower in today's high-stakes business and financial environment. The book also features leadership advice from 20 senior executives at some of the world's leading organizations, including: Aston Marton, The Boeing Company, Compassion International, Motel 6, Nationwide Insurance, Starbucks, and Starwood Hotels & Resorts Worldwide, Inc., to name a few.
If you haven't had an opportunity to pick up a copy of No Cape Needed, you can today at a discounted price here.