September 14, 2015
On Sale Now: No Cape Needed
In my work with leaders across a wide range of Fortune 500 companies, I often hear strikingly similar frustrations and concerns. Leaders come to me feeling stuck, unable to see a clear path through the dizzying array of challenges amid the incredible demands on their time.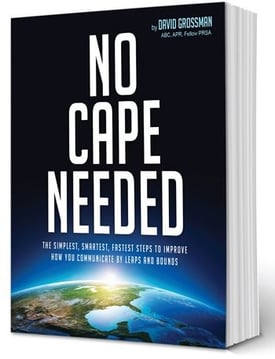 At the same time, I see leaders getting in the way of progress, when there are simple communication fixes that could help them achieve their goals faster and more effectively than they ever imagined.
Watching this dynamic unfold, I was inspired to write my latest book, No Cape Needed: The Simplest, Smartest, Fastest Steps to Improve How You Communicate By Leaps and Bounds.
Through the book, I hope to illustrate that good communication skills are a key to business success, and a lot easier to attain than many leaders think.
In fact, I think of communication as a sort of superpower in today's business environment. I've personally seen leaders inspire and engage their teams and dramatically move their businesses forward by using many of the same principles that I discuss in No Cape Needed.
Among those leaders is John Greisch, CEO of Hill-Rom Holdings, Inc. Greisch has applied some of the key principles I highlight – and with much success.
"Using many of the same techniques he discusses in this book, David led our senior leadership team through two days of highly interactive, personal exercises," Greisch writes in the foreword to No Cape Needed. "The results were immediate and gratifying. Skeptics became believers, believers became advocates, and all became much more effective communicators."
I've used a simple do/don't format for the book so busy leaders can pick up key points quickly and in a highly readable format. I also feature leadership advice from 20 senior leaders working inside some of the world's leading organizations, including The Boeing Company, Starbucks, Compassion International, Aston Martin, Motel 6, Nationwide Insurance, and Starwood Hotels & Resorts Worldwide, Inc.
My hope is that this book will help you tap the power you have within you to become a courageous and inspirational leader and communicator. An added bonus is that I'm convinced you can do it in your own way, in a style that's true to you.
--David Grossman