June 9, 2015
Internal Social Media Is Not a Magic Bullet
Despite the potential of Enterprise Social Media (ESM) to foster leader-to-employee dialogue and peer-to-peer collaboration, it's important to remember that social media is not in itself a panacea for every challenge your company faces.
It's true that ESM can enhance the way information flows inside your organization. But on their own, internal social media platforms can't create dialogue and engagement out of thin air. At its best, ESM enriches a healthy communications landscape—a landscape that should feature strong leadercommunicators™, compelling storytelling, aligned and consistent messaging, and effective tools and measurement, among other attributes.
Though adoption and participation naturally varies within organizations, there are a few ideas that might help you troubleshoot and improve the percentage of leaders and employees who opt in to networking tools:
The most successful social tools are driven by distinct business needs.
Too often, companies adopt shiny new tools for the sake of appearing "innovative." Employees appreciate innovation, but value—and use—those tools that directly help them do their jobs.
The most successful social platforms are built from within.
It's human nature for people to value most those tools and resources they had a hand in building. So the best platforms allow early adopters not just to contribute to the earliest online conversations, but to shape the way the tools themselves look, feel and operate.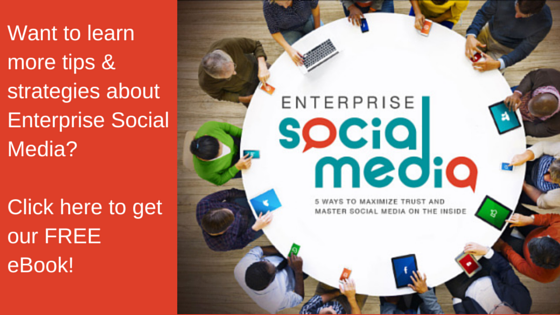 Company culture can dictate ESM readiness.
Social tools need to feel authentic to the way people interact in the company today. If your culture is not ready for digital engagement, you can't force it. Rarely does social media successfully get out ahead of a company's culture.
Executives and leaders should be the earliest adopters.
Leaders can't just pay lip service to supporting social media platforms. Leader participation in online communities is by far the biggest driver of employee buy-in. Even more important, leaders need to model the dialogue and collaborative spirit that they'd like to see in the behavior of their employees.
Social media policies and guidelines are good, but training for social media literacy makes social tools sustainable.
Social tools only have a return on investment if people understand how to use them. Written instructions aren't enough: the most effective companies are training their employees to leverage the power of ESM.
Is your culture ready for true digital engagement?
- David Grossman
------------------------
Download—10 Dos and Don'ts of Email Tip Sheet— by clicking the image below and get the steps you need to take back control of email in your organization.