July 9, 2018
Someone to Know: Q&A with AbbVie Director of Internal and Leadership Communications Matt Goebel
I've worked with this incredible leader in a few capacities over the years and I have to say he has a true knack for leadership communication and staying calm under pressure. It's one of his many superpowers! I'm honored to introduce you to Matt Goebel, Director of Internal and Leadership Communications at AbbVie. In our Q&A he weighs in on his role today, how AbbVie rallies their 29,000 global employees around their mission to make an impact on people's lives and the parallels he draws between his skills as an auctioneer and his role in communications. He's full of wisdom and I hope you enjoy our Q&A.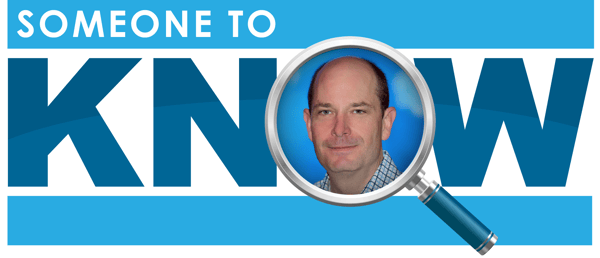 Q&A with Matt Goebel,
Director of Internal and Leadership Communications
at AbbVie
Q: How do you describe your role today?
A: While I don't speak a foreign language, I liken my role to a translator. It's my job to help our senior-most leaders articulate our business strategy in a way that's meaningful and actionable for every single person in the organization, no matter their job, tenure or location. Like most large companies, we have our corporate strategy, which aligns everyone to our mission and strategic roadmap, and supporting that are the different functional strategies that articulate how we'll achieve success. As those strategies are developed every year – and evolved throughout the year depending on changing internal and external conditions – it's my job to translate them so they make sense to employees at all levels of the organization.
Q: In a day and age when resources are tight, why is it important for organizations to invest in internal and leadership communications?
A: As a biopharmaceutical business with 29,000 employees in 70 countries, we are a highly-matrixed organization. We can't develop, produce and market medicines that meet unmet medical needs for life-threatening and chronic diseases unless each part of our organization understands intimately what the others are doing, and why. That takes a special group of leaders who can connect the dots from the earliest stages of drug development through to getting the medicine in the hands of a patient, a process that might take 10 years or more. It falls on our leaders' shoulders to keep our cross-functional teams working together seamlessly while anticipating the swift-moving external environment and constantly-changing stakeholders' needs. What's their enabler? Clear, consistent, transparent communications about our strategy and what each of us need to do to be successful. Smart companies invest in resources to make that happen, and smart leaders invest their time to be better communicators.


Q: At AbbVie, you have employees all around the world, what tried and true strategies do you count on to reach employees and help them feel engaged?
A: AbbVie was formed after separating from Abbott on January 1, 2013. Since day one, our shared mission across geographies, cultures, functions and job levels has been to make a remarkable impact on people's lives. To rally everyone around that mission, a fundamental communication strategy has been to connect our employees to our patients' journeys.
What are the diseases we treat? What impact do they have on patients' lives, and the lives of their caregivers, friends and family? How do our therapies help? What are we working on for the future? Our global communications address these topics consistently, and we rely on our leaders to help employees see and understand how each of them connect to the answers. When employees have line of site to the remarkable impact we make, the result is true engagement.


Q: What advice do you have for leaders who are trying to improve their performance?
A: All leaders started somewhere (duh). I'm always impressed by leaders who aren't afraid to credit past mentors or others who made an impact – either in a positive or negative way – at any given point in their career. I like hearing stories about what an old boss did right or wrong that remains an influence in how a leader thinks, attacks a problem, prioritizes spinning plates, engages teams…in other words, leads.
Similarly, I appreciate leaders who are honest about successes and failures early in their career, and how they've used those learnings to develop a philosophy and approach to leadership. I want to know that my leader started on the manufacturing floor, or making copies, or answering phones, or as an intern. It gives me confidence that they know the business, and aren't immune to the challenges their people face at every level. It's an additional layer of context when trying to understand business decisions, and helping them communicate those decisions broadly.


Q: I know you have many hobbies – golf, the St. Louis Cardinals, coaching and raising your two terrific children, to name a few. But, one is especially unique: you're an auctioneer. What about that role do you enjoy most and what parallels do you see between it and internal communications and/or leadership communications?
A: I started my career working for a fine art auction house, where one of my roles was acting as an auctioneer during sales. I left that world a long time ago, but still conduct charity auctions as a hobby for organizations like the Art Institute of Chicago, Shedd Aquarium and Lurie Children's Hospital.
A successful auction and a successful communication hinge on two key factors: Clarity and Transparency. As an auctioneer, I use humor and a high-energy style to engage audiences. But I can't get the best results without ensuring everyone in the room understands what's for sale and where we are at any given moment in terms of price. And as the dollar amount rises – as well as the tension in the room – it's my job to remain clear and open about the item and price (and also to encourage bidders to drink more wine!). In terms of communication, I don't need to explain to your readers the value of Clarity and Transparency. Employees are smart. They appreciate authenticity and honesty. And their time is far too valuable to be anything other than clear and transparent in delivering messages about your business, its performance, and what employees need to continue to do, or do better.
----
About Matt

Matt Goebel is Director, Internal and Leadership Communications at AbbVie, a global, research and development-based biopharmaceutical company. He works with c-suite executives on corporate, cross-functional and functional communications that support our business strategy, including leading the company's internal communications during its separation from Abbott. Matt has worked for and with leaders driving strategic internal communications at a variety of companies, including Abbott, Accenture, McDonald's and Lockheed Martin. Matt received his undergraduate degree from Middlebury College and his Master of Science degree from Northwestern University's Medill School of Journalism.
To read more executive Q&As in our Someone to Know Series, click here.
Click below to download the eBook—Going Slow to Go Fast: Making Internal Communication Work for You—a go-to resource for communicators who want to build an internal communication plan that speaks directly to the number-one question on business leaders' minds: How will this improve our bottom line?