March 16, 2016
Spring Break Reading List: 20 Must Read Books on Employee Engagement & Leadership
The employees you lead have a lot to do with the success of your team and your personal success. When engaged and inspired, they can move mountains – driving productivity, business growth, and the success of your organization as a whole.
Spring break is a great time to catch up on reading and not be on email (If you need help unplugging, I encourage you to download our Email-Free Vacation Pledge. It outlines 8 steps you can take today to ensure your vacation doesn't turn into a "workcation".)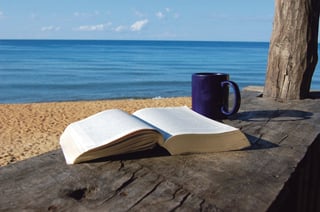 Whether you're at home or at the beach, here are some of my favorite books - some new; others are classics - on employee engagement and leadership that will help advance your leadership skills:

A World Gone Social: How Companies Must Adapt to Survive by Mark Babbitt (@MarkSBabbitt) and Ted Coine (@tedcoine)


What does the Social Age mean for your business? Containing stories, analysis of real-world scenarios, and indispensable guidance, A World Gone Social gives you the tools and information you need to survive and thrive in a business climate in which customers hold all the cards... job seekers have the power to easily find out what working at your company is really like... and expertise has become more democratic than ever as employees collaborate with each other, as well as with vendors, customers, and even competitors.
Getting to the Heart of Employee Engagement: The Power and Purpose of Imagination and Free Will in the Workplace by Les Landes (@LandesAssocs)


In this captivating tale, author and consultant Les Landes offers a new path to the promised land of extraordinary employee engagement. It begins with a thought-provoking premise about the essential differences between human beings and other living creatures-imagination and free will-and how those two qualities are inseparably linked. That premise opens the door to a fresh understanding and appreciation for human nature in the workplace, and it sets the stage for a breakthrough in optimizing employee performance.
Delivering Happiness: A Path to Profits, Passion, and Purpose by Tony Hsieh (@tonyhsieh)

In Delivering Happiness, Tony Hsieh ― the hip, iconoclastic, and widely-admired CEO of Zappos, the online shoe retailer ― explains how he created a corporate culture with a commitment to service that aims to improve the lives of its employees, customers, vendors, and backers. Using anecdotes and stories from his own life experiences, and from other companies, Hsieh provides concrete ways that companies can achieve unprecedented success. He details many of the unique practices at Zappos, such as their philosophy of allocating marketing money into the customer experience, the importance of Zappos's Core Values ("Deliver WOW through Service"), and the reason why Zappos's number one priority is company culture and his belief that once you get the culture right, everything else - great customer service, long-term branding - will happen on its own. Finally, Delivering Happiness explains how Zappos employees actually apply the Core Values to improving their lives outside of work, proving that creating happiness and record results go hand-in-hand.


The Carrot Principle: How the Best Managers Use Recognition to Engage Their People, Retain Talent, and Accelerate Performance by Adrian Gostick (@adriangostick) & Chester Elton (@chesterelton)

Revealing the groundbreaking results of one of the most in-depth management studies ever undertaken, The Carrot Principle shows definitively that the central characteristic of the most successful managers is that they provide their employees with frequent and effective recognition. With independent results from HealthStream Research, and analysis by bestselling leadership experts Adrian Gostick and Chester Elton, this breakthrough study of 200,000 people over ten years found dramatically greater business results when managers offered constructive praise and meaningful rewards in ways that powerfully motivated employees to excel.


Communicating for Change by Roger D'Aprix (@RogerDAprix)


Develop a communications strategy that works for — not against — you. Based on years of battle-tested principles and case-examples, Roger D'Aprix tells managers how they can avoid the communications breakdowns that sabotage attempts at change, and cause employees to lose faith in their leaders and the system itself. Instead, he shows how communications can be used strategically to connect an organization's vision, mission and business goals to the forces and opportunities in the marketplace — the driving force behind all change.


Motivate Like a CEO by Suzanne Bates (@CEOCoachBates)


The most successful leaders seem to possess a remarkable gift for inspiring and motivating people. They are not only hard workers who possess great business minds; they rally others to drive forward with a powerful, common vision. Motivate Like a CEO

demonstrates how leaders at every level can develop this skill and use it to bring their teams together around a common purpose.


The Leadership Pill: The Missing Ingredient in Motivating People Today
by Ken Blanchard (@kenblanchard) & Marc Muchnick (@MarcMuchnick)


How can you become a more successful manager, a stronger team leader, and a motivator who gets the best results from a group? Ken Blanchard and Marc Muchnick's The Leadership Pill provides the answer. Destined to be a transforming experience for countless readers, The Leadership Pill shows business managers at any level how to apply the right techniques for getting both results and the commitment of their people, even when the pressure to perform is high.


Strengths Based Leadership: Great Leaders, Teams, and Why People Follow by Barry Conchie & Tom Rath (@TomCRath)


This book identifies three keys to being a more effective leader: knowing your strengths and investing in others' strengths, getting people with the right strengths on your team, and understanding and meeting the four basic needs of those who look to you for leadership. As you read Strengths Based Leadership, you'll hear firsthand accounts from some of the most successful organizational leaders in recent history, from the founder of Teach For America to the president of The Ritz-Carlton, as they discuss how their unique strengths have driven their success. Filled with novel research and actionable ideas, Strengths Based Leadership will give you a new road map for leading people toward a better future.


Great on the Job by Jody Glickman (@greatonthejob)


Great on the Job is a much-needed "people skills" primer and master class in all facets of workplace communication. How do you ask for help and sound smart while you do it? How do you answer a question you don't know the answer to? Raise a red flag in advance of a problem, or tell your boss you've screwed up, at two in the morning? Great on the Job offers tactical, practical strategies you can take and use tomorrow.


Give and Take: Why Helping Others Drives Our Success by Adam M. Grant (@AdamMGrant)


For generations, we have focused on the individual drivers of success: passion, hard work, talent, and luck. But today, success is increasingly dependent on how we interact with others. It turns out that at work, most people operate as either takers, matchers, or givers. Whereas takers strive to get as much as possible from others and matchers aim to trade evenly, givers are the rare breed of people who contribute to others without expecting anything in return. Using his own pioneering research as Wharton's youngest tenured professor, Adam Grant shows that these styles have a surprising impact on success. Although some givers get exploited and burn out, the rest achieve extraordinary results across a wide range of industries. Give and Take highlights what effective networking, collaboration, influence, negotiation, and leadership skills have in common. This landmark book opens up an approach to success that has the power to transform not just individuals and groups, but entire organizations and communities.


Lukaszewski on Crisis Communication: What Your CEO Needs to Know About Reputation Risk and Crisis Management by James E. Lukaszewski

Crisis is not like other business interruptions. In a crisis, your company spokespersons, managers, and employees must know exactly what to do, what to say, when to say it, and when to do it -- while the whole world is watching! But can you depend on your crisis management plan to make that happen? Lukaszewski on Crisis Communicationis your guide to preparing for a crisis and the explosive visibility and reputation risk that come with it.
1001 Ways to Reward Employees by Bob Nelson (@DrBobNelsonCA)


Whether you manage a department, oversee a division, lead a company ― or run a family business with just one employee ― there's an essential principle to follow that's too often overlooked: What most motivates the people who work for you is recognition. A chock-full guide to rewards of every conceivable type for every conceivable situation, 1001 Ways to Reward Employees polls the whole of the American business community, finding innovative ideas in every corner. From the spontaneous gesture of praise to formal company-wide programs, it presents hundreds of ways to say thank you to the people who truly deserve it.


Activate Leadership: Aspen Truths to Empower Millennial Leaders by Jon Mertz (@jonmertz)

In an age when leaders have left our world's most pressing problems unsolved, Activate Leadership takes a radically new look at the workforce's growing Generation Y. What if within the very traits Millennials in the workplace are criticized, lay the seeds of strong leadership qualities ready to be activated? Activate Leadership draws new wisdom from an ancient source —aspen groves — to inspire Millennials to lead on purpose.


The Optimistic Workplace: Creating an Environment That Energizes Everyone by Shawn Murphy (@TheShawnMurphy)

When it comes to work these days, we're expected to do more with less—but is this nose-to-the-grindstone philosophy the best way to run a business? Alarmingly low employee engagement numbers indicate otherwise. So, if pushing everyone harder isn't the path to productivity, what is? Supported by the latest research, this eye-opening book argues that our best work is the product of a positive environment. That's good news for you as a manager. While you can't personally transform the corporate culture, you can influence the workplace climate and create meaningful and lasting change.


Leadership Vertigo: Why Even the Best Leaders Go Off Course and How They Can Get Back On Track by Tanveer Naseer (@TanveerNaseer) & S. Max Brown (@smaxbrown)


Leaders often can't see the gap that exists between what they want their leadership to represent and how others actually experience their leadership. Many of us are experiencing a common perceptual problem where our brain sends us false signals assuring us that everything is okay when it is not. We call this phenomenon Leadership Vertigo. Leadership Vertigo: Why Even the Best Leaders Go Off Course and How They Can Get Back On Track will help you to understand how you can counter these bouts of self-deception by employing the following four Leadership Principles, which are building community, developing competence, earning credibility and cultivating compassion that will help you get back on course to guiding your team forward.


Managing for Execution: The Art of Getting Results from Others by Todd Nielsen (@toddbnielsen)

As a manager you may excel at organizing resources, resolving issues, or communicating with your staff, but if you and your team fail to execute—nothing else matters. To harness the collective power of your people and consistently achieve the goals you've set out to accomplish, you need to spend more time focusing on execution activities and less on managing the day-to-day chaos that only sustains the status quo. Complete with stories, examples, and a step-by-step formula for overcoming the kind of "Big Hairy Annoying Problem" that throws a wrench into the best-laid plans—Managing for Execution gives you the tools you need to aim higher and accomplish more than you ever thought possible.


EntreLeadership: 20 Years of Practical Business Wisdom from the Trenches by Dave Ramsey (@DaveRamsey)

Your company is only as strong as your leaders. These are the men and women doing battle daily beneath the banner that is your brand. Are they courageous or indecisive? Are they serving a motivated team or managing employees? Are they valued? Your team will never grow beyond you, so here's another question to consider. Are you growing? Whether you're sitting at the CEO's desk, the middle manager's cubicle, or a card table in your living-room-based startup, EntreLeadership provides the practical, step-by-step guidance to grow your business where you want it to go.


Grounded: How Leaders Stay Rooted in an Uncertain World by Bob Rosen (@BobRosen)


Confronted by disruptive change and economic turbulence, many of today's leaders find themselves ill-equipped to manage the hazards they now face. They must contend with chronic uncertainty, cynical employees, and personal burnout. Most are poorly served by the prevailing paradigm that obsessively focuses on what we do to produce short-term results while sabotaging who we are as healthy human beings. Few have seen alternatives, until now. Grounded proposes a new approach that's designed for actual humans who must grapple with these forces. This new paradigm speaks to our better selves. The book argues that leaders at every level can be more self-aware, develop their untapped potential, and drive significantly better results—for themselves, their teams, and their organizations.


Building a Magnetic Culture: How to Attract and Retain Top Talent to Create an Engaged, Productive Workforce by Kevin Sheridan (@KevinSheridan12)


As CEO of leading employee survey and HR consulting firm HR Solutions, Inc., Kevin Sheridan knows how it's done―and in Building a Magnetic Culture, he shares all his secrets. Building a Magnetic Culture explains what engages and motivates employees and how to create an environment in which employees can thrive. Drawing on years of research and real-world examples from his consulting experience, Sheridan gives you the strategies and tactics you need to transform your company by creating and sustaining a Magnetic Culture.


No Cape Needed: The Simplest, Smartest, Fastest Steps to Improve How You Communicate by Leaps and Bounds by David Grossman (@ThoughtPartner)


Last but not least, I can't help but mention my newest book, No Cape Needed: The Simplest, Smartest, Fastest Steps to Improve How You Communicate by Leaps and Bound (shameless plug!). In it, I share tips and strategies to help all leaders see how communication is truly a superpower in today's business and financial environment. Throughout the book, you'll find simple and fast steps to improve how you communicate and advice from leaders in the Fortune 500.
What books have you read that have inspired you as a leader?
-David Grossman
_____________
Download —The Email-Free Vacation Pledge— and gain the most critical steps to prepare your team and you for your best vacation yet.