September 21, 2016
Starting Thought: The Benefits of Trying
I did something recently I haven't done in years – water ski. It's probably been 25+ years since I donned a life jacket, skis and said, "Hit it!" Or as the kids today now say thanks to Star Wars, "Hit it, Chewie!"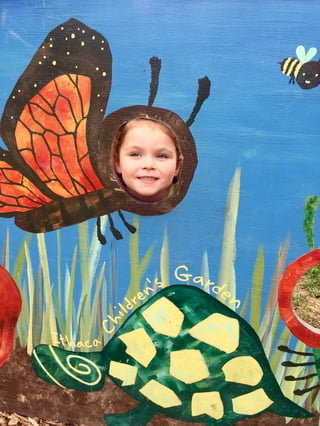 My 4-year-old butterfly, Noa, in a less sarcastic moment.
I have to tell you I was a little nervous about it. My muscles are more than 50 years old now, and I wasn't sure I could do it. Or should do it. I knew it would be a stretch for me in a number of ways. But I wanted to ski, so I thought I would give it a try.
We were on our friend's boat – Steve and the girls and me, along with our friend's kids who are entering seventh grade and high school. I've known both of them since they were born, and they are really kind and thoughtful young women. Our girls love them, and I sense the feeling is mutual.
The Effort is More Important Than the Result
One of the things we've been working on with our girls is to help them understand how important it is to try. That the effort is more important than the result. And with effort most often comes results (and learnings!) when you stick with something and do your best.
Some back story on my skiing blast-from-the-past: I was afraid of the water growing up. People pushed me to learn to swim when I wasn't ready, and I became afraid. I was a very sensitive child growing up, and I didn't like to be pushed when I didn't feel comfortable. When all my friends were in "Red" and "Blue" in swimming at camp, I waded in the "White" part of the man-made lagoon, which – if I recall – came up to my ankles. I was a master bubble-blower, but that was about the extent of my swimming prowess.
The only thing more humiliating growing up, I think, was the 5th quarter in basketball that we played in middle school. Not sure who invented this fine time-honored tradition, but during the 5th quarter all of us bench warmers got to play. They started the clock and just let us little rascals show how uncoordinated we were.
I'm proud to say that I was the star of the fifth quarter. Suffice it to say, however, that my most important contribution was being in charge of the turn table. When my sixth grade team won our division, or area, or best bake sale ever – I can't recall – D-J D-G played the Queen classic, "We are the Champions." I could barely shoot a basketball, but I could spin a mean record!!

It's important to try. You'll be glad you did. The effort is more important than the result.
You'll Be Glad You Tried
Today, water and I get along just fine, and my early experiences are well, water under the bridge.
Back to the lake. Just as I said, "Hit it!" my youngest, Noa, who's almost four, said in a somewhat sarcastic tone, "I don't think this is going to end well!" So much for words of encouragement from a child who's usually the first to be supportive of others.
And then she watched my "try" turn into "do." A little visualization and self-talk to remind myself about good form – bend my knees, hold my chest up, and have my arms out straight – and I was on my way! Once I relaxed, I was able to enjoy the wind, the view, and a feeling of accomplishment.
I was glad I tried. I was glad things turned out well. And if they hadn't, that would have been okay, too. Either way, it makes for a great story I know we'll all tell and re-tell for years!
What's on your "try" list – something that's going to stretch you as a leader?
—David Grossman
-----------------------------
On just one page you'll get 10 tips to help set up your organization's culture change for success: