January 4, 2017
Tell Stories to Motivate Your Teams
Neuroscientists and cognitive psychologists teach us that tapping people's emotions through storytelling clearly allows us to command an audience's attention.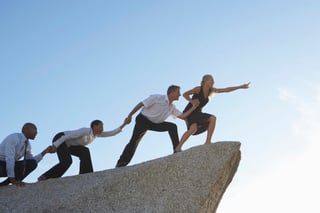 For instance, the renowned cognitive psychologist Jerome Bruner's research finds that a fact wrapped in a story is 22 times more memorable. Michael Gazzaniga, another prominent psychologist at the University of California at Santa Barbara, argues that our conscious rational mind is always looking to attach meaning to events. When there is none, the mind invents meaning.

Leading companies are picking up on the importance of #storytelling and using narratives to drive their #strategy.
Many famous CEOs have used storytelling to solidify their own company narrative, as Sangeeeth Verghese explains in a Forbes article, "The CEO as Storyteller in Chief." He describes how Starbucks Chairman Howard Schultz often tells the story of his trip to Milan and his passion for the fresh, richly brewed espresso he discovered there and brought home with him. Schultz shares the story to emphasize with employees that their job goes well beyond selling coffee. It's truly about the passion for a quality experience, the kind of experience that has many of us standing in line daily for the opportunity to taste a Starbucks coffee.
Similarly, Bill Gates often talks about his early dream to put a personal computer on every desktop and in every home—at a time when the power and beauty of computers was still widely unknown. In fact, that dream enticed many business geniuses to join Gates in building Microsoft in its earliest days. That includes former Microsoft executive Steve Ballmer, who dropped out of business school to join the company while it was an unknown start-up searching for its future path.
Access more messaging secrets on how to connect
and communicate with your team here.
Leading Companies Understand the Importance of Storytelling
Leading companies are picking up on the importance of storytelling and using narratives to drive their strategy.
Paul Smith, a consumer research executive and author of the book, Lead with a Story: A Guide to Crafting Business Narratives that Captivate, Convince and Inspire, shared some of his favorite examples of companies' storytelling with Forbes contributor Dan Schawbel. Among them:
All senior executives at Nike are designated corporate storytellers

Bullet points were banned by 3M and replaced with a process of writing strategic narratives

Kimberly-Clark has a 13-step program for crafting stories and giving presentations with them

P&G hired Hollywood movie directors to teach its senior executives how to become better storytellers

Some storytellers at Motorola belong to outside improvisational or theater groups to hone their story skills
They do this because they understand that we follow leaders because of the way they make us feel and because stories are memorable.
What are some of your stories you can share with your employees?
—David Grossman
Additional articles on Storytelling you might find valuable:
---
Employees are eager for a leader who can step up and guide them with strategy and integrity. Access more messaging secrets on how to connect and communicate with your team by clicking on free eBook download above.