January 13, 2020
The Grossman Group's Top Leadership & Communication Blogs of 2019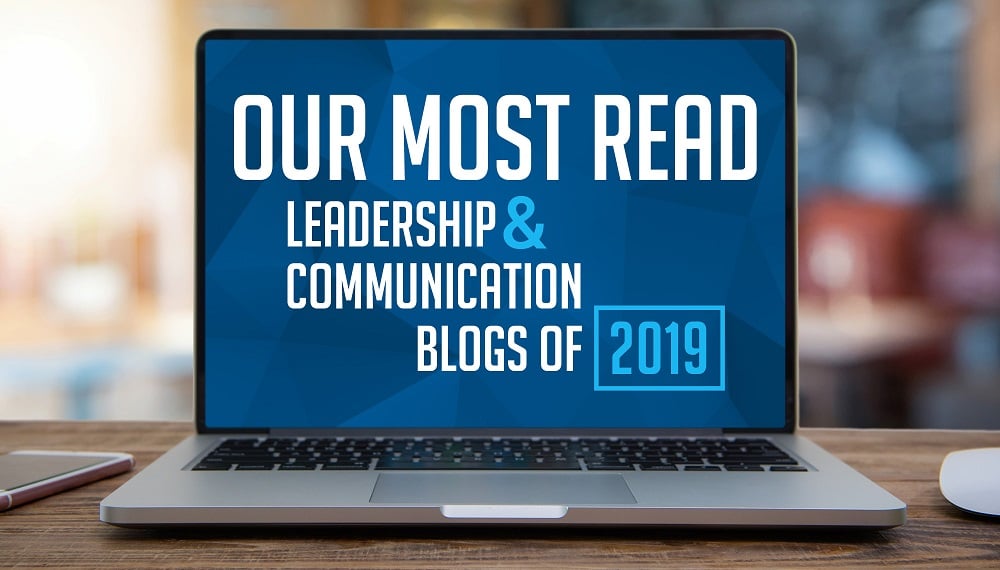 As we begin the new year, we wanted to take a moment to look back and see what resonated most with you – our readers – in 2019. The past year was full of fascinating topics, and I thought now was a great time to reflect back on some of the most popular posts, recapping the best leadership and communication articles of 2019.
There's a wide variety of content here, including posts on how to build trust among your employees and teams to the top questions leaders have about communication. There's also guidance on how to help your employees grow and develop, engage your workplace with two-way communication, fix poor communication, communicate virtually anything, and more.
Let us know what you think, what topics are on your mind and where we can add value for you. Here's to continuing to elevate our skills in the year ahead!
9 Most Read Leadership & Communication Blogs of 2019
Building employee engagement involves two-way communication in the workplace - both to and from employees. Get four steps to better engagement and commitment with your team – along with a free tip sheet of 15 dos and don'ts of effective two-way communication.
Poor communication can cause a lot of problems within a company, including lower engagement, productivity and damage to relationships. These seven tips will help you improve communication inside your organization.
Taking an active role in the development of your team demonstrates confidence and concern for the future of the organization. It also gives employees feelings of significance, community, and value. Put these six ideas into practice to help your employees be the best they can be.
There are more than enough ways to communicate, and too often they add up to message overload for employees. Here are six good reasons for leaders to communicate face-to-face, including a free infographic. And if you prefer your content in a video, we've created a short video of the six reasons to communicate face-to-face, which you can access here.
Learn how to use 5 Ws and an H to capture important perspective, share important content, make it relevant for your audience, and ensure you don't forget a critical detail in your communications. This blog includes a free two-page guide to help you.
A leader's ability to inspire and motivate employees is based on trust. Get six ways that leaders at all levels can build trust in the workplace by aligning actions with words.
Leadership roles change every day and leaders need to grow and improve with them. Here are 20 leadership blogs (similar to this one) that are worth checking in with on a regular basis to get countless tips that you can put to use right away.
A strong internal communications strategy pays off in more ways than one. Organizations that understand the benefits of good communication and constantly strive to achieve better internal communication are a breed apart. These five benefits explain why.
A lot of leaders say they want to communicate effectively, but they're not sure where to start. They have questions about how to overcome communication challenges, how to share tough news with employees, and how to measure the effectiveness of their communication. Here are their top six questions (and our solutions).
How might one of these resources help you be even better in the year ahead?
—David Grossman
---
Click below to download your ebook: Make the Most of Your Town Hall: 10 Ways to Unleash the Power of Your Team. Research shows that employee expectations are changing when it comes to communication. Download this guide to get key insights into many of the emerging trends and 10 strategies for revitalizing town halls.