May 20, 2015
Starting Thought: The Meaning of Life Is Being Present
I was recently invited to contribute to a fascinating project on the "meaning of life." It features interviews with CEOs, writers, researchers, musicians, artists and community leaders on the broad but tantalizing question of where each of us finds meaning in life. I gladly participated in the discussion, and you can find my thoughts later in this post. And if you're interested in reading some really interesting interviews for the project, which was founded by Nicolae Tanase, you can do so at excellencereporter.com.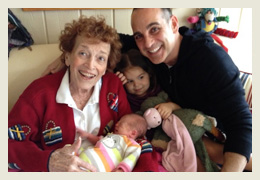 I was asked the sole question he asks all of his contributers: "What is the meaning of life?"
And my answer…
What are we all here for? I believe strongly that the meaning of life is about being present, doing our best to live in the current moment and nowhere else. One of the final gifts my mom gave me was this lesson. She was waging a courageous battle with the worst kind of leukemia and had two goals – to meet her grandchild (my second daughter), and to attend her grandson's wedding.

Fortunately, our daughter came early. The moment the baby could leave the hospital, we whisked her away and drove to see my mom, who at this point was incredibly frail and in a lot of pain.
As I put our daughter, Noa, into my mom's arms, I realized that for this one moment, everything was perfect in the world. Noa was cocooned by my mom, and I held my mom's hand, hoping to be as present as I could. I knew this moment would be fleeting, yet I wanted it to last forever.

I knew that wasn't possible so I decided I was going to make the most of the moments we had left.
We sat in silence as mom seemed to inspect every inch of Noa. "She has such beautiful lips," she said. After a few more moments, she added, "Look how tiny her fingernails are," as if she were seeing a newborn's hands for the first time. Then, "I wonder whether her eyes will stay blue." My mom was fully present, and the awe and wonderment were palpable.
Mom decided to stop her treatment after that. We sat together – Noa on her lap four more times before she died. And it was in those moments that I finally understood what being fully present really meant.
When I allow myself the opportunity to be fully present today, I see that life has great meaning. When I can soak up all that the present moment offers, and not worry, or be distracted, or focus on what's next, I understand that moment's meaning. I see clearly now that when you add all those moments up, you have all the insights you need into the meaning of life.
- David Grossman