July 7, 2015
Top 10 Barriers Communicators Face Blog Post Series
When communication is good, it informs. When it's great, it engages and moves people to action. Today's employees want more than just information—they want discussion and dialogue. As a communicator, you know all of the benefits that come with effective employee engagement—shared understanding, productivity, innovation, achievement of business goals—can only be realized when a leader prioritizes communication.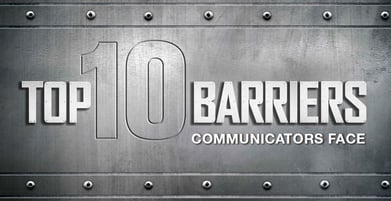 But the reality is that despite the tangible benefits, leaders often put up barriers to effective communication. These barriers may arise because leaders buy into some common communication myths, or because they don't see the value in communication, among other reasons.
The posts in this series will help you recognize the 10 most common barriers to effective communication that leaders construct, including:
No time
Leaders perceive that either there isn't enough time to draft a plan or that more could be done in the time saved from drafting or sharing a plan.
Withholds or limits information
A common communication myth is that people won't interpret situations or give them meaning if no one talks about them.
Check-off mentality
Too often, leaders approach communication with a "check-off-the-box" mentality.
Not engaged in communication
Leaders see communication as a tactic for which the communication department is solely responsible.
Little or no planning
Research shows that a typical leader spends 70-80% of their week communicating. Yet only spends 10-15% of that time planning communication.

Doesn't value communication
Leaders see communication as a "soft" activity or goal that should yield to more concrete metrics that directly impact the bottom line.
Trapped in the tactical
Communication isn't just tactical, it's about strategy.
Communication is reactive and scattered
More often than not, organizations don't apply the same rigorous discipline to planning strategic messages that they would to other areas of the business like operations, finance, or sales and marketing. The result is scattered or reactive communication.
Limited or no presence at the table
It's hard to get your leader involved in the communication process when you can't get on your leader's calendar or can't get a seat at the decision-making table.
Blind Spots
You could also be one of your biggest barriers. They're things unknown to us, yet obvious to others. Blind Spots cause us to send signals we don't intend, limiting our ability to effectively communicate.
There's no one answer or approach to address the top roadblocks. For each, we'll give you a range of options to choose from. You decide what's the best way to address an objection or hurdle.
Look for these barriers communicators face posts during the next few months. Our next post in the series and our first barrier we will address is "No time."
What can you start doing to improve internal communications with your leader?
-David Grossman
----------------------
Looking to build the case for great communication in your organization? Download the Fact Sheet below and learn compelling research & insights that will make your case impossible to ignore.