February 17, 2021
Trust as a Powerful Tool for Leading Change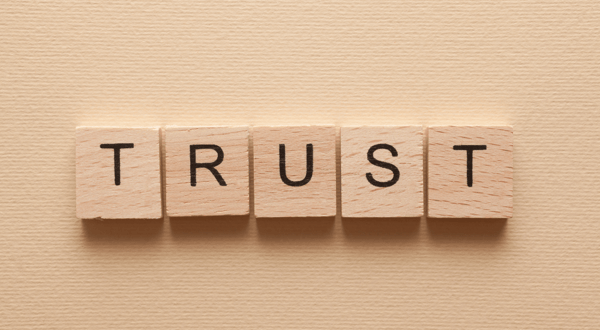 Jumping off a high dive. Getting behind the wheel for the first time. Giving your first speech in front of a large crowd.
When you look back at some of the scariest things you've done in life, chances are a big reason you achieved them was trust. Maybe a parent was standing by your side to assure you a plunge from that sky-high diving board would actually be good for you, that you'd be ok, and that you had their support. In other cases, it may have been a friend, a spouse or a colleague guiding you and encouraging you. The trust you had in that person gave you the courage needed to take a leap, or simply follow their lead.
Trust is a major driver for all of us, and sadly, it's in short supply today. The 2021 Edelman Trust Barometer, the annual worldwide trust and credibility survey, found public trust in government, non-governmental institutions and the media had eroded even further over the past year. More than half of global respondents said that they felt government and business leaders are deliberately misleading with lies and misinformation.
Trust in Business Higher Than Other Institutions
However, there was a bright spot for business leaders. The study found that most people now rely mostly on their employers for accurate information, and trust businesses over government and media. It's noteworthy that employees specifically called out their own companies as a major source of trusted information. (Nudge for communicators: Here's evidence that internal communications truly matters!).
Interestingly, respondents were also looking for more from their CEOs. More than 8 in 10 respondents expect CEOs to publicly speak out on societal challenges like the impact of the pandemic, job automation, societal issues and local community issues; 68 percent want CEOs to step in when government won't fix societal problems; and 65 percent want CEOs to hold themselves as accountable to the public as to shareholders.

Trust is one of the
best levers leaders have when driving real change inside their organization.
This free
eBook
provides practical, strategic answers on how leaders and companies can become more trustworthy, leading to better business outcomes.
Click here
to get started.
Here's a snapshot of how businesses currently lead other institutions when it comes to trust and the information they provide:
Percent trust in:
My employer: 76%

Business (general): 61%

Non-governmental organizations: 57%

Government: 53%

Media: 51%
Percent who believe information from each source automatically, or after seeing it twice or less:
My employer (my company's newsletters/publications): 61%

National government: 58%

Media reports, named sources: 57%

Major corporations: 52%

Advertising: 46%

My social media: 39%
Employees Looking to Their Leaders to Step Up
The message seems clear: Business leaders are being called on to be courageous and forthright on key issues, well beyond the confines of the organizations they sit in. Increasingly, people are looking for business leaders to fill the huge gap that's not being satisfied by political leaders to provide trust – and inspiration.
I've already seen this kind of inspired leadership work well during this tumultuous time. Leaders I've worked with who've stepped out of their comfort zones to offer honest and candid conversations about how the company is doing and what challenges they're facing have seen employees respond positively. Even when some of the messages were tough to hear, employees appreciated that their leaders were sharing what they could, when they could. They also appreciated their leaders' vulnerability and honesty. They welcomed leader messages that included the words "I simply don't know yet," or "there's no playbook to work through this pandemic and I'm hoping we can work on it together."
I have always believed in the importance of trust for leaders, but I'm convinced of its power even more today. Especially in this time of intense challenges and disruption for business, one of the best levers leaders have for driving real change and making a difference is trust. When your team trusts you and believes in you, they'll move mountains for you. On the flip side, when trust is eroded – as we've seen in our politics, government and in many societal institutions over the past year – organizations and institutions struggle to find their footing and can't get anything done, let alone drive positive change.
If you're looking for hope and inspiration today as a leader, I think it lies in the fact that people are looking to you – even more so than government or other institutions – to lead with courage and earn their trust in this difficult time.
What lessons do you think leaders miss when they're trying to build trust inside their organizations? What have you personally found to be the "secret sauce" for building trust in a time of crisis?
—David Grossman
---
Find out how building more trust in your organization will help drive change and lead to better business outcomes. Click the image below to download your free copy of the eBook—7 Critical Traits for Building Trust Inside Companies—today!