June 11, 2015
Unproductive Time on Email Quickly Becoming a Corporate Productivity Concern
For years, the discussion around email volume at work centered on work-life balance. Employees complained that email at all hours was a significant contributor to workplace stress.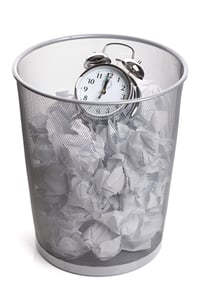 While that remains a concern for many employers, the lost revenue from email overload is now grabbing executives' attention even more. As more companies learn how much wasted time is spent on email in the workplace, they're very motivated to do something about it. For instance, the highly publicized "Zero Email Initiative" at the global technology firm Atos grew out of a company analysis that found the average employee was spending 15 to 20 hours a week checking and answering emails.
More than three years after the CEO of Atos, Thierry Breton, announced in 2011 that he would eliminate email for internal communications within a few years, the company has indeed cut way back on its total email count. The average number of internal emails per mailbox per week at Atos dropped from 100 in 2011 to under 40 by 2013, according to the company.
One Fortune 100 company we worked with calculated that irrelevant email costs them a great deal in lost productivity.
Here's just some of the numbers they identified:
Irrelevant email costs $909,000 per day and $236 million per year.
Supervisors spend the most unproductive time on email – an average of 4 hours on email per day. 57 minutes of that time is spent on irrelevant email.
Other employees spend 2 hours on email per day. 32 minutes of that time is spent on irrelevant email.
Similarly, The Grossman Group conducted research of 1,100 executives, senior leaders, managers, and employees on their perceptions of e-mail. The 2012 Work-Related Email Perception Study found that middle managers feel the most pain. The study found that middle managers typically spend 100 hours (6,000 minutes) a year on irrelevant email.
Clearly, this lost revenue speaks loudly and clearly that poor email behaviors need to be addressed, not just to reduce worker stress but to greatly improve your company's bottom line.
How much unproductive time on email do you think employees are spending at your company? How might better education on the use of email help employee productivity?
--David Grossman
---------------
Download the free eBook, Enterprise Social Media, and get 5 actionable lessons to deploy Enterprise Social Media in a way that resonates with employees & leaders alike.