December 11, 2015
Weekly Round-Up: Making a Communications Plan in 2016, the Best Companies to Work for (According to Employees), Unchanged Employee Engagement in November and Simple Ways to Make Work Better.
Welcome to my weekly round-up of top leadership and communication blog posts. As many of you know, each week I read and tweet several great articles and on Fridays, I pull some of my favorites together here on my blog.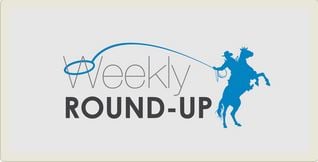 This week you'll read articles on making a communications plan in 2016, the best companies to work for (according to employees), unchanged employee engagement in November and simple ways to make work better. These articles will provide you with tips, strategies and thought-starters from many of the smart folks in my network. So whether you're a new leader or an industry veteran there'll be something here for you.
Your First Resolution for 2016: A Communications Plan
By Liz Wainger (@LizWainger), Wainger Group
"It's that time of year again. No, we're not talking about eggnog and holiday cheer, although ''tis the season.' Rather, it's communications planning time! Don't have one? Maybe this is the year to create one. And if you do have one..."

These Are the Best Companies to Work for, Employees Say
By Jena McGregor (

@jenamcgregor

), OnLeadership, The Washington Post
"If a just-released list is to be believed, a new generation of companies appear poised to burnish their reputations as employee-friendly places to work. Late Tuesday, the jobs and careers site Glassdoor said..."
The Most Important New System You Could Implement in 2016
By Dan Rockwell (@LeadershipFreak), Leadership Freak
"Leaders spend too much time crafting values statements and too little putting them into practice. 'The work isn't crafting values; it's living them.' The most important new system you could implement is one that enables you to evaluate and align behaviors with values..."
U.S. Employee Engagement Unchanged in November
By Amy Adkins, (@Gallup) Gallup, Inc.
"In November, the percentage of U.S. workers that Gallup considers engaged in their jobs averaged 32.1%. This is unchanged from the figure in October and on par with monthly averages since March..."
Engagement and Empowerment: 4 Simple Ways to Make Work Better
By Daniel Kraft (@DanielKraft), SmartBlog on Leadership
"Most of us actually enjoy working and doing a great job. We find fulfillment in adding value and contributing our time and energy to something meaningful. But too often, endless procedures, superfluous tasks, and office policies detract..."

What were some of the top leadership articles you read this week?
- David Grossman
___________