May 31, 2019
Weekly Round-Up: 5 Steps to Implement New Strategies, 7 Small Things Leaders Can Do, Bettering Change Leadership, 3 Times to Have Difficult Conversations, 10 Leadership Lessons from a Dog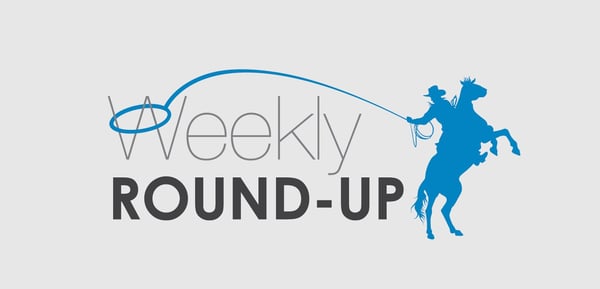 Welcome to my weekly round-up of the best-of-the-best recent leadership and communication blog posts.
7 Small Things Leaders Can Do That Will Go a Long Way


By Lolly Daskal (@LollyDaskal)

Get 7 straightforward ways that can make a big difference to your employees and your leadership.

"Most successful leaders spend their time thinking about strategy and technology and processes. And those things are important, of course, but it can be easy to forget that sometimes it's the smallest gestures that have the biggest impact..."
Read more >>
How Should Change Leadership and Common Good Intersect?


By Jon Mertz (@jonmertz via @ThinDifference), Thin Difference

Change leadership and common good need a tighter intersection. Find out why and what that looks like.

"Good leaders are change agents. Nothing around us stays static, so change leadership is a necessity. Change for the sake of change is not good leadership. Change requires a grounding in a business and societal understanding and discovery from which reasonable policies and strategies arise..."
Read more >>
3 Signs a Conversation Needs to Happen


By Marlene Chism (@StopYourDrama via @SmartBrief), SmartBrief

You may sometimes be unaware of when a difficult conversation is necessary for the health of the business. Know where to look with these 3 signs.

"Productive conversations turn conflict into collaboration, reduce costly mistakes and create a culture of accountability. However, productive conversations are often avoided because of a perceived difficulty in initiating the conversation. I've heard everything from, "I don't want her to cry," to "I'm afraid of blowing up," to "It's the company picnic this week;" to "I can't afford to lose them..."
Read more >>
10 Personal Leadership Lessons I've Learned from a Dog


By Alli Polin (@AlliPolin), Break the Frame

Get 10 fun and powerful leadership and life lessons learned from the joys of dog ownership.

"

She's changed our lives for the better, and in the process, I've learned about myself, unconditional love and personal leadership. Who knew there was so much to be learned from a dog?

…"
Read more >>
What were some of the top leadership and communication articles you read this week?
—David Grossman
---
Click below to download your ebook—22nd Century Communications: Strategies to Deliver Cutting-Edge Communication, Engage Employees and Strengthen Reputation—and get key insights into the top 10 principles some of the best organizations employ to ensure their communication strategy is a positive lever in building a stronger business.