February 24, 2017
Weekly Round-Up: Becoming a Mindful Leader, Improving Communication, Strategic Intelligence Leadership, Habits of Exceptional Leaders & Leadership Traits
Welcome to my weekly round-up of recent top leadership and communication blog posts. As many of you know, each week I read and tweet several great articles and on Fridays, I pull some of my favorites together here on my blog.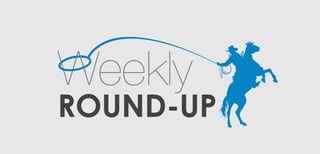 This week you'll read articles on becoming a mindful leader, improving communication in your business, leaders must have strategic intelligence to thrive, daily habits of exceptional leaders, and 5 traits that define great leadership.
These articles will provide you with tips, strategies and thought-starters from many of the smart folks in my network. So whether you're a new leader or an industry veteran there'll be something here for you.
What were some of the top leadership articles you read this week?
--David Grossman
---
To help inspire you to communicate better and with quiet courage we polled our network and gathered 52 of our favorite inspirational quotes on communication and compiled them into this poster - download today!