November 11, 2016
Weekly Round-Up: Best Things for Leaders & Business, Employee Engagement 2016, Communicator Issues, Prioritze Employees & Conversations Millennials Want To Have
Welcome to my weekly round-up of top leadership and communication blog posts. As many of you know, each week I read and tweet several great articles and on Fridays, I pull some of my favorites together here on my blog.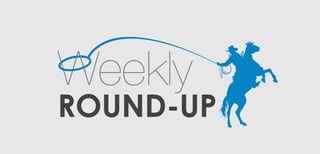 This week you'll read articles the best thing leaders can do for business, employee engagement in 2016, employee engagement isn't only up to internal communications, how to succeed in business by prioritizing employees, and 5 conversations your millennial employees want to have. These articles will provide you with tips, strategies and thought-starters from many of the smart folks in my network. So whether you're a new leader or an industry veteran there'll be something here for you.
Prioritizing Employees: a Strategy for Successful Business
By Al Gomez (@B2Community), B2Community

"Perhaps, over the years since Socrates developed dialogue, Madame Rambouillet organized conversation in salons, and the heigh day of Samuel (Doctor) Johnson, the art of conversation and listening has declined. Perhaps this current age of electronic interactions will see further decline …"
5 Conversations Your Millennial Employees Are Longing To Have
By Karin Hurt (@

LetsGrowLeaders

), Let's Grow Leaders

"Morgan (a family friend who also happens to be a millennial) was practically screaming in frustration as we began our mentoring session, "Arghhh, Karin, I'm just so frustrated. They want me to do all this crap… none of it seems important, and it's getting in the way of my real work …"
What were some of the top leadership articles you read this week?
-- David Grossman
_______________________________
Understanding how others think is critical to influencing them and getting results. This ebook lists the top 10 things that a CEO cares about and provides a self-reflection point for each.