March 18, 2016
Weekly Round-Up: Leadership Presence Infographic, Growing from Leaders, How to Be a Good Manager, A Time for Giving Leadership and The Importance of Business Mentoring
Welcome to my weekly round-up of top leadership and communication blog posts. As many of you know, each week I read and tweet several great articles and on Fridays, I pull some of my favorites together here on my blog.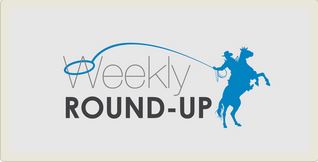 This week you'll read articles that offer helpful advice on being a better leader by learning about leaders with strong presence, how leadership is an influence to other leaders, tips on being a good manager, understanding giving leadership and the importance of mentoring and strategic management. These articles will provide you with tips, strategies and thought-starters from many of the smart folks in my network. So whether you're a new leader or an industry veteran there'll be something here for you.
Leadership Presence: The Ultimate Infographic Guide
By The Leadership Crucible,(@frankspohr), The Leadership Crucible Blog
"Leadership presence is the elusive secret of successful leadership. If you've got "IT" you radiate a magnetic effect that comes from being authentic and inspires people to you...."
Leaders Growing Leaders
By Coach Bechler,(@ULeadership101), Coach Bechler Blog
"Last week, I attended the John Maxwell Team Live Event in Orlando and received my certification in coaching, speaking and leadership from the #1 Leadership Expert in the world…"
How to Be a Good Manager
By Joe Frazier,(@agoodmanager), The Good Manager Blog
"Have you ever stayed after work to work towards finishing a project only to have no one notice? Waiting for great results can take too long…"
A Time for Giving Leadership
By Bob Burg,(@BobBurg), Jesse Lyn Stoner's Blog
"Leadership happens everywhere — in our relationships and our families, our communities and our work, and in every domain of our lives…"
Where Have All The Business Mentors Gone?
By Meghan M. Biro,(@MeghanMBiro), Forbes Magazine
"Where have all the business mentors gone? Apparently, there are far less than before, and it's taking a toll on companies…"
What were some of the top leadership articles you read this week?
- David Grossman
_________________