December 18, 2015
Weekly Round-Up: What Darth Can Teach Us About Leadership, 3 Powerful Words for Leaders & Building Office Productivity
Welcome to my weekly round-up of top leadership and communication blog posts. As many of you know, each week I read and tweet several great articles and on Fridays, I pull some of my favorites together here on my blog.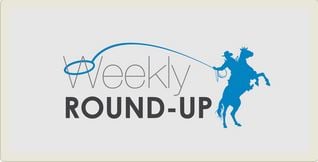 This week you'll read articles on Darth's leadership style, 3 powerful works for leaders and building office productivity. These articles will provide you with tips, strategies and thought-starters from many of the smart folks in my network. So whether you're a new leader or an industry veteran there'll be something here for you.
Darth, We Need to Talk About Your Leadership Style
By Rick Lash (@GlobeandMail), Globe and Mail
"Dear Darth, I know it's been a while – more than 30 years since your untimely death. I remember the first time I met you at the University Theatre on Bloor Street in Toronto. I knew less then about the world and what makes for a great leader, but you made a huge impression..."

3 Incredibly Powerful Words for Leaders
By Susan Mazza (@SusanMazza), Random Acts of Leadership
"I appreciate you for..."
How Great Leaders Balance Execution and Empathy
By Adam Lloyd (@SBLeaders), Smart Brief on Leadership
"It's often the great debate of what defines an exceptional executive, the discussion of EQ (emotional intelligence) versus IQ (intellectual intelligence). Go Google it and you'll find plenty of mixed reviews and articles that point..."
Improve Office Productivity in 4 Easy Steps
By Chantal Bechervaise, (@CBechervaise), Take It Pesronal-ly
"For most modern companies, the office is the epicenter of all business operations. Success in this location will filter down throughout all aspects of the company. Building a better work environment should be at the top of any business owner's agenda..."
Go Further Than Persuading. Build Consensus.
By Dean Brenner (@SwitchandShift), Switch and Shift
"For the next few minutes I'd like you to think about the way you communicate in the workplace. Think about how you deliver information, and think about the efforts you make to persuade and build consensus with your colleagues..."

What were some of the top leadership articles you read this week?
- David Grossman
___________