November 4, 2016
Weekly Round-Up: Failing Forward, A New Perspective on Failure, Hoarding Knowledge, How to Really Listen, 3 Traits to be a Better Leader
Welcome to my weekly round-up of top leadership and communication blog posts. As many of you know, each week I read and tweet several great articles and on Fridays, I pull some of my favorites together here on my blog.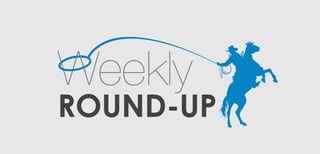 This week you'll read articles on how failures are inevitable so learn from them and move forward, a new perspective on failure, why hoarding knowledge imperils your organization, listening with the ear in the chest, and 3 character traits that make you a better leader. These articles will provide you with tips, strategies and thought-starters from many of the smart folks in my network. So whether you're a new leader or an industry veteran there'll be something here for you.
Failing Forward
By Les Landes (@

LandesAssocs

), Landes & Associates

"No matter how enlightened a person may be, it's usually pretty hard to take failure or setback without some sense of loss or regret. It might even provoke anger and retribution if the failure is costly and it's a "stupid" mistake …"
Listening with the Ear in the Chest
By Graham Williams (@

MarcellaBremer

), Leadership & Change Magazine

"Perhaps, over the years since Socrates developed dialogue, Madame Rambouillet organized conversation in salons, and the heigh day of Samuel (Doctor) Johnson, the art of conversation and listening has declined. Perhaps this current age of electronic interactions will see further decline …"
3 Character Traits That Make You a Better Leader
By Greg Marcus (@

LetsGrowLeaders

), Let's Grow Leaders

"Being a better person is easy in theory – do less of the negative stuff, and more of the positive stuff. The same holds true for leadership. The problem comes in when we either don't know what we should do, or we do know but can't help ourselves and do the negative anyway …"
What were some of the top leadership articles you read this week?
—David Grossman
___________________________________.
If you're like most people, public speaking probably isn't your favorite thing to do – even if it is among staff and colleagues. But, getting off to a great start is easier than you might think.