March 10, 2017
Weekly Round-Up: Leadership Lessons From Childhood, Emotionally Intelligent Leadership, Help Women Succeed & Tips for Business Success
Welcome to my weekly round-up of recent top leadership and communication blog posts. As many of you know, each week I read and tweet several great articles and on Fridays, I pull some of my favorites together here on my blog.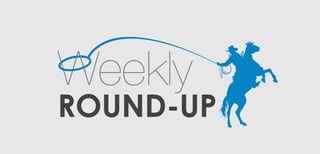 This week you'll read articles on 6 forgotten, yet applicable, leadership lessons from childhood, leading when you're hurting, 4 easy ways to help women succeed in business, 9 tips for growing a successful business, and 13 things to give up to be successful.
These articles will provide you with tips, strategies and thought-starters from many of the smart folks in my network. So whether you're a new leader or an industry veteran there'll be something here for you.
What were some of the top leadership articles you read this week?
—David Grossman
---
Internal CEO communications create a significant financial advantage for any organization. Get the data all CEOs need to drive financial performance in this free whitepaper—download today!