February 3, 2017
Weekly Round-Up: Leadership Vitality: Agile vs. Erratic, Unengaged Employees, 'Shoes Off' Leadership, Seeing Weakness Is Not a Strength, & the Science Behind Performance
Welcome to my weekly round-up of recent top leadership and communication blog posts. As many of you know, each week I read and tweet several great articles and on Fridays, I pull some of my favorites together here on my blog.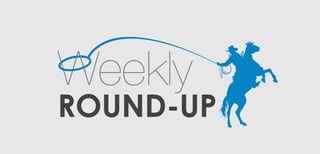 This week you'll read articles on how successful leaders are agile not erratic, why employees are unengaged, an interview with CEO, Sheryl Palmer, on her leadership style, if your greatest strength is seeing weakness – you aren't fit to lead, and the surprising science behind what really drives performance.
These articles will provide you with tips, strategies and thought-starters from many of the smart folks in my network. So whether you're a new leader or an industry veteran there'll be something here for you.
What were some of the top leadership articles you read this week?
—David Grossman
__________________________________________________________
Our most read, tweeted, and shared leadership and communication advice of 2016. Download—
—ebook today!