April 14, 2017
Weekly Round-Up: Lessons from United Airlines, Brutal Leadership Truths, Strategic Leaders, Life & Leadership Lessons, & the Double Bind
Welcome to my weekly round-up of recent top leadership and communication blog posts. As many of you know, each week I read and tweet several great articles and on Fridays, I pull some of my favorites together here on my blog.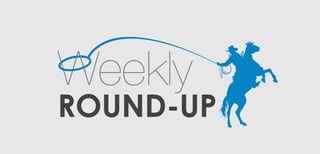 This week you'll read articles on leadership lessons from United Airlines, 3 leadership truths no one likes to admit, 6 things strategic leaders do, 10 life and leadership lessons you should have learned as a kid, and the double bind of leadership. These articles will provide you with tips, strategies and thought-starters from many of the smart folks in my network. So whether you're a new leader or an industry veteran there'll be something here for you.
What were some of the top leadership articles you read this week?
—David Grossman
---
Click below for my article on pg. 30, in Switched On Leadership Magazine. The magazine app and a free 3-month subscription included!