June 28, 2019
Weekly Round-Up: Measuring Culture in Leading Companies, Brand Strategy for Leaders, Improving Employee Engagement & Culture, Communicating with Global Employees, Creating a Culture of Innovation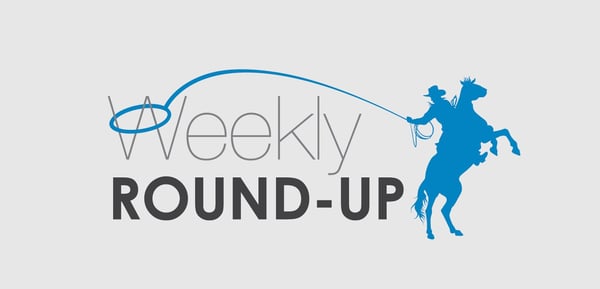 Welcome to my weekly round-up of the best-of-the-best recent leadership and communication blog posts.
This Week's Round-Up of Leadership and Communication Blogs:
Measuring Culture in Leading Companies
By Donald Sull, Charles Sull, and Andrew Chamberlain (@CultureXInsight, @CharlieCultureX, and @adchamberlain via @mitsmr and @Glassdoor), MITSloan Management Review and Glassdoor

MITSloan teamed up with Glassdoor to quantify, compare and benchmark corporate cultures across organizations in a way that hasn't been done before.

"

To survive and thrive in today's market, a healthy corporate culture is more important than ever. The MIT SMR/Glassdoor Culture 500 uses machine learning and human expertise to analyze culture using a data set of 1.2 million employee reviews on Glassdoor. This interactive tool offers previously untapped insights about the organizational culture of over 500 of the world's leading companies and provides leaders with new tools for benchmarking culture in their own organizations

..."
Read more >>
A Leader's Guide to Creating an Enduring Brand


By Lindsay Pedersen (@lindsaycpederse via @greatleadership), Great Leadership



Get insights on what it takes for leaders to create a brand strategy that rewards the company with pricing power, loyalty, and inspires employees to believe in it

.

"For a brand to create value for a business, customers, and employees, it needs to be genuine and bracingly clear. That is the only way it will empower the leader and employees to make tough choices that amplify the brand. Value-creating brands are ones that force tough choices..."
Read more >>
4 Impactful Actions Leaders Can Start Doing Today To Improve Employee Engagement And Company Culture


By Naz Beheshti (@NazBeheshti via @Forbes), Forbes

Employee engagement and culture is up to leadership, not HR. Research finds that what employees want most is reliable and meaningful communication. Here are 4 actions to get started.

"It seems obvious: If you want engaged employees, you have to be an engaged leader. You have to engage with your employees. Nevertheless, many leaders engage with employees too infrequently and unconstructively. The millions of dollars companies spend annually on employee engagement will mean little if business leaders do not realize engagement starts with them..."
Read more >>
How to Communicate with a Diverse, Global Group of Employees


By Robby Brumberg (@robbybrumberg via @RaganComms), Ragan Communications

Find out how to help your messaging land regardless of linguistic or cultural differences.

"Communicating with a diverse, global audience is the messaging equivalent of walking a high wire while eating a bowl of noodles. It can be difficult, messy, confusing and downright scary. Dangerous miscommunication lurks with every step, and there are endless opportunities to fall flat on your face—after a precipitous plunge..."
Read more >>
How Leaders Can Create Cultures Of Innovation At Work


By Louisa Garcia Moreno via Tanveer Naseer (@TanveerNaseer)

Louisa discusses research findings stating that companies with executives who are highly engaged in L&D are 3x more likely to have a culture of innovation and their strategies to get there.

"

Innovation is not something that happens overnight: It must be cultivated and nurtured, and more and more evidence points to learning and development as the key. But if L&D is necessary for innovation in the workplace, then leaders who are invested in it are imperative.

…"
Read more >>
What were some of the top leadership and communication articles you read this week?
—David Grossman
---
Click below to get an easy-to-download poster to hang in your office. Then pick one quote a week and use it as inspiration as you continue to advance your leadership skills in the year ahead—download today!