March 4, 2016
Weekly Round-Up: Preparing For a Crisis, Telling Your Story to a Live Audience, Rewards & Recognition, Cost of Mismanaging Change and The Most Important Thing You Can Do to Become a Better Leader
Welcome to my weekly round-up of top leadership and communication blog posts. As many of you know, each week I read and tweet several great articles and on Fridays, I pull some of my favorites together here on my blog.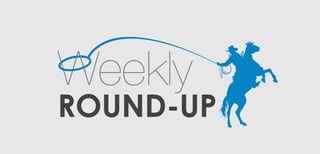 This week you'll read articles that offer helpful advice on being a better leader by learning how to prepare your organization for a crisis before it hits, telling your story to a live audience, ways to show meaningful recognition to your employees, actions leaders must take when guiding change and the most important thing you can do to become a better leader. These articles will provide you with tips, strategies and thought-starters from many of the smart folks in my network. So whether you're a new leader or an industry veteran there'll be something here for you.
Are You Ready for a Crisis?
By Irene Bakaric,(@mediaprep), MediaPrep Blog
"It's easy to become complacent in a non-crisis environment. But don't get caught off guard…"
Ask The Expert: How to Tell Your Story to a Live Audience
By Brian Roff,(@ProPointGraphic), Forbes
"I sat down with Columbia professor and presentation consultant Jesse Scinto to learn how to create and deliver great presentations…"
Rewards and Recognition Done Right
By Scott Mautz,(@Scott_Mautz), Lead Change Group
"Not all forms of Rewards & Recognition (R&R) are created equal. In actuality, as human beings we aren't profoundly motivated by the tangible reward or recognition itself…"
The Human Cost of Mismanaging Change
By Art Petty,(@ArtPetty), Management Excellence Blog
"Fresh from a round of recent engagements, here are some very real reminders of how personal change is and how poorly we as leaders perform in guiding our people through the fog…"
The Most Important Thing You Can Do to Become A Better Leader
By Jim Whitehurst,(@JWhitehurst), Inc. Magazine
"I think it's a mistake to assume that there is even such a thing as a "prototypical" leader. I don't think such a person exists. That's why people get into trouble when they begin trying to act and emulate someone they aren't…"
What were some of the top leadership articles you read this week?
- David Grossman
_________________
Want to lead in a way that engages and motivates employees? Check out our ebook that provides high-level tips and tools to equip your leadership toolbox.