January 27, 2017
Weekly Round-Up: Real Leaders & Great Managers, 36 Leadership Experts Chime In, Fun Way to Focus Your Team, Develop High-Performing Employees & Effective Recognition
Welcome to my weekly round-up of recent top leadership and communication blog posts. As many of you know, each week I read and tweet several great articles and on Fridays, I pull some of my favorites together here on my blog.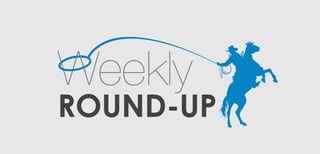 This week you'll read articles on how to be a real leader and a great manager, 36 leadership experts reveal what truly exceptional leadership is all about, a fresh, fast, and fun way to focus your team, a strategy every leader can use to develop high-performing employees, and how to do recognition effectively.
These articles will provide you with tips, strategies and thought-starters from many of the smart folks in my network. So whether you're a new leader or an industry veteran there'll be something here for you.
What were some of the top leadership articles you read this week?
—David Grossman
______________________________________
Our most popular leadercommunicator blog posts of 2016, recapping the most read, tweeted, and shared leadership and communication advice. Download—
—today!