October 28, 2016
Weekly Round-Up: Reducing the Gender Gap, Leadership Questions, Making Messages Memorable, Things Great Listeners Do, & First 90 Days as a Leader
Welcome to my weekly round-up of top leadership and communication blog posts. As many of you know, each week I read and tweet several great articles and on Fridays, I pull some of my favorites together here on my blog.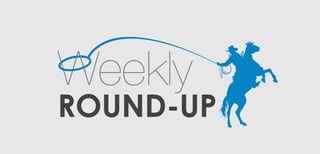 This week you'll read articles on how Salesforce is leading the way in reducing gender bias, asking questions to improve your leadership, how leaders can make their message more memorable, what great listeners actually do, and 7 priorities for your first 90 days as a leader. These articles will provide you with tips, strategies and thought-starters from many of the smart folks in my network. So whether you're a new leader or an industry veteran there'll be something here for you.
Ask Questions to Improve Your Leadership
By Bruce Rhoades (@

SkipPrichard

), Skip Prichard

"Leadership is not about knowing all the answers—it is about leading others to do their best to accomplish goals, solve problems and grow. How many times have you seen a "leader" arrive at the wrong conclusion or take misguided action because they did not know all the facts? …"
How Leaders Can Make Their Message More Memorable
By Dr. Carmen Simon (@

TanveerNaseer

) Tanveer Naseer

"Innovation is something that is absolutely necessary for continued success. Even if you are at the top of your field, resting on your laurels and sticking with the same old routines will only succeed in leaving you behind at the bottom of the pack …"
What Great Listeners Actually Do
By Jack Zenger and Joseph Folkman (@

HarvardBiz

), Harvard Business Review

"Chances are you think you're a good listener. People's appraisal of their listening ability is much like their assessment of their driving skills, in that the great bulk of adults think they're above average …"
What were some of the top leadership articles you read this week?
—David Grossman
Click to listen to my podcast discussion with Shel Holtz and Mark Story on communication strategies, brands, technology, changes, and more: